Office exterior with Blender Cycles (Profile)
The project profile series of Blender 3D Architect is a collection of articles aiming for feature projects related to architectural visualization. We invite talented artists to share additional details about each project to demonstrate how they approach each stage. And also allow each author to publicize their work among our readers.
How does it work? It is like an interview, where we sent a couple of questions about a project for the artist.
If you want to check previous project profiles, visit this link.
Today we have a project named 77 Offices from digital artist Cristian Taborda, which used Blender Cycles to work in an external visualization of a building as a way to practice for bigger projects.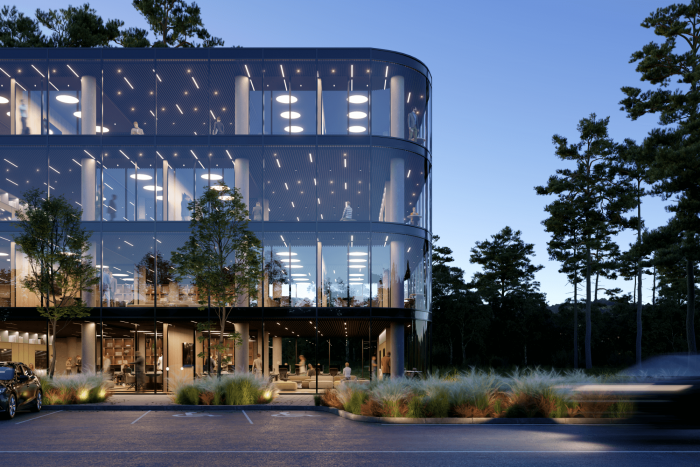 (Click to enlarge)
What is unique about this project? The project is a perfect example of an artist putting his skills to work in a challenging design with lots of glass and vegetation to improve his portfolio. It is something that everyone should do to get ready for large scale building visualization.
Let me thank Cristian Taborda for sharing the details about the project with Blender 3D Architect readers.
---
Was it a commercial project? What can you tell us about the motivation for this project?
It wasn't a commercial project. This project was created because a possible client could approach me with a building project visualization (a large scale project), and I said, "Hmm, I have a great job, but I don't see large scale projects as buildings too often in Blender." Would I be ready to work in something like this? Since the creation process is the same, on a larger scale, I decided to try something like an office project based on personal preferences on design and aesthetics. My goal was to work on something other than a residential house.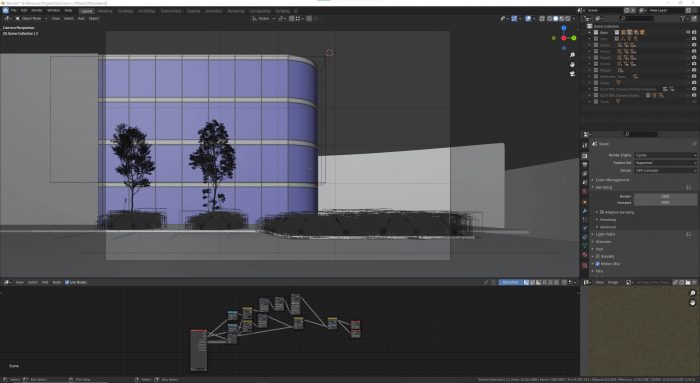 (Click to enlarge)
Did you use any references for modeling, like technical drawings?
I used a lot of references like pictures and other visualization projects that inspire me. I had to keep a close eye on the scale and proportions to keep the 3D model with the right proportions since I wasn't using any technical drawings. That is one of my biggest concerns.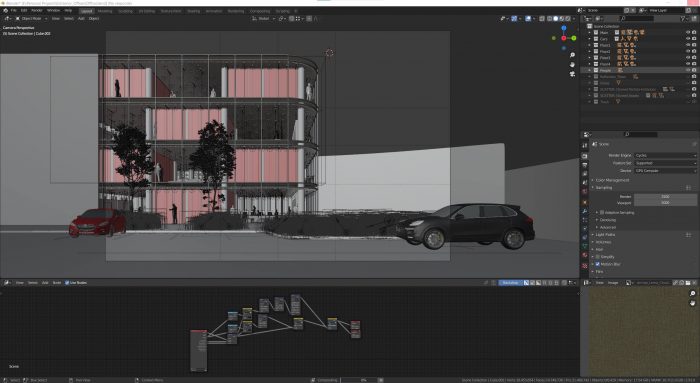 (Click to enlarge)
Did you model everything in the project, including furniture and props?
I modeled the whole site, but for the interior, I used many models for the interior as the humans scanned, the cars and furniture are bought from third-party libraries.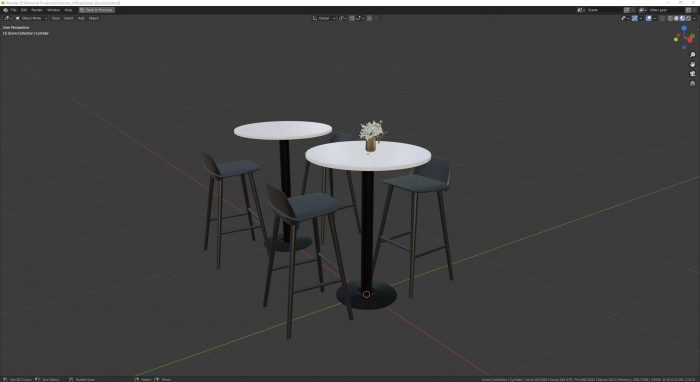 (Click to enlarge)
What can you tell us about the design (Layouts, materials, and props)? Did you have to create it yourself?
The design is a little bit from personal tastes to references, as far as the materials used, I used Poliigon and Quixel, everything was obviously created within Cycles. During development, I used Nodes to adjust colors.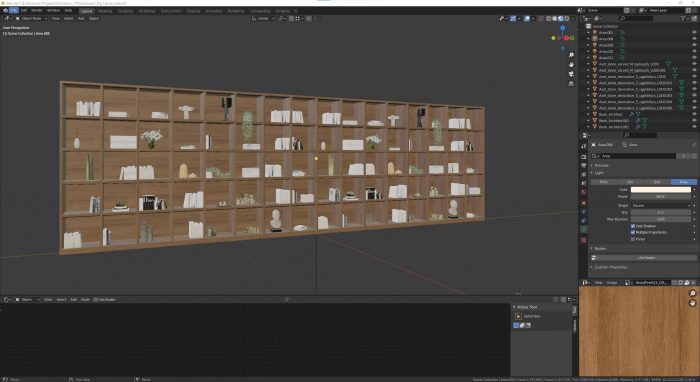 (Click to enlarge)
How long did it take from start to finish?
This project was done in my free time. In the beginning, when I started to create it, I had a lot of work to do, so from the beginning to the end, it took about three weeks. I believe that if I had to do it as a full-time project, it probably would require one week to finish.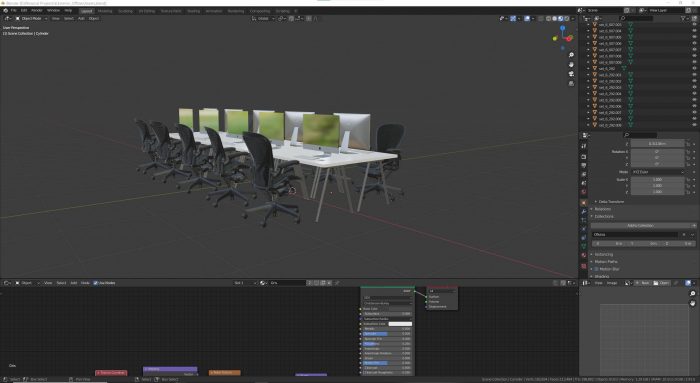 (Click to enlarge)
What hardware did you use to render? Can you share some render times?
My primary computer uses an Intel I9 9820, 128 GB ram, and an RTX 2080 TI.
This image took about 4 hours to render at a resolution of 4500x3000px with a total of 2500 samples.
Can you share any details about the lighting process?
Sure, mainly I am using two HDRI Sky textures, I have a special configuration of nodes to use one for illumination and another Sky texture with less power for the render, so the sky can be seen smoothly dark.
Then I added some area lamps and light points with IES texture distributed in all the interior sites and a few for the exterior vegetation.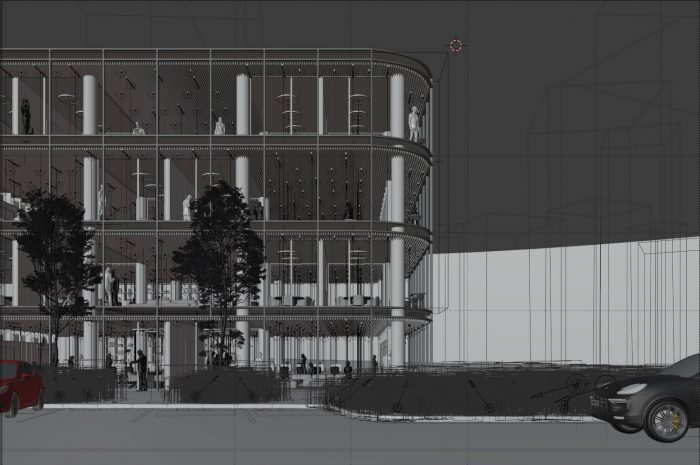 (Click to enlarge)
Did you use any Add-ons or external tools to create the project?
If I did, use :
What would you say was the most challenging aspect of working on this project?
For me, it's always a bit challenging to create scenes with a high polygonal level. Despite having good hardware, I always have problems when the scene has all the assets and models. In the end, what I do in this case, is to link absolutely all the assets to external files.
Finally, it was a project for practice rendering, but you can always learn a lot from those experiences, and since it is not a commissioned work, I have the freedom to choose everything.
My point with this kind of project is to strengthen the portfolio and reach maybe niches that clients didn't know I could cover. Also, it helps a lot to grow as an artist and create an excellent visual having some fun.
Thanks again to Cristian Taborda for sharing details about their work. You can check more projects from him at Behance, Instagram, and his visualization company, 77 Render Studio.