Motorcycle retail store with Blender Cycles
What is the most common type of architectural visualization that you will find in any artist portfolio? It will probably be something like residential interiors because they are undoubtedly the kind of project that has the most significant demand. The same will apply for architectural offices, which eventually will work much more on residential projects.
For that particular reason, it is great when you find a project that goes to an unexplored subject. Not precisely unexplored, but a subject that doesn't appear much in architectural visualization portfolios.
Here is an interesting project from an artist called asmithey and posted at the BlenderArtists forums. The project is a Motorcycle retail store.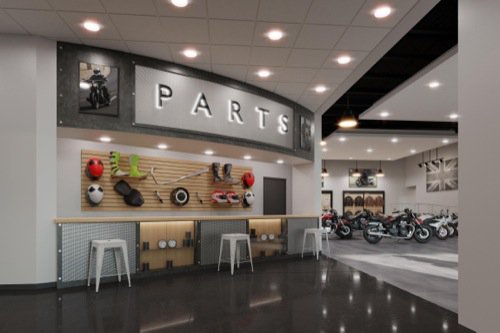 From the project description, you will find some useful information about rendering. Each render took 8000 samples to process, which is quite high. But, when you take a look at the amount of detail and variety of complex materials and lights it was probably necessary.
How long did it take to render? No information about render times, but with 8000 samples it probably received a considerable amount of processing.
A retail store project has a lot of details and requirements that make them unique when compared to residential spaces, and for that reason, you will find artists that only work with that type of project.
Usually, a retail store owner will want a particular setup for lights and product displays to maximize sales. Even colors inside a store will drive costumers to a potential purchase.
All those details will create an additional level of pressure to the architectural visualization artist. If you ever had to work on retail stores in places like a shopping mall, you have an idea about the experience.
The project is an excellent example of artwork created with Blender and also shows how a skilled architectural visualization artist can use the software to help sell retail store projects.