Modern house with Blender Cycles on a Mac (Profile)
The project profile series of Blender 3D Architect is a collection of articles aiming for feature projects related to architectural visualization. We invite talented artists to share additional details about each project to demonstrate how they approach each stage. And also allow each author to publicize their work among our readers.# Miami villa with Blender and the Unreal Engine (Profile)
The project profile series of Blender 3D Architect is a collection of articles aiming for feature projects related to architectural visualization. We invite talented artists to share additional details about each project to demonstrate how they approach each stage. And also allow each author to publicize their work among our readers.
How does it work? It is like an interview, where we sent a couple of questions about a project for the artist.
If you want to check previous project profiles, visit this link.
Today we have a project named Modern house from digital artist Charles Naki, which used Blender Cycles running on a Mac to create some beautiful images from this interior.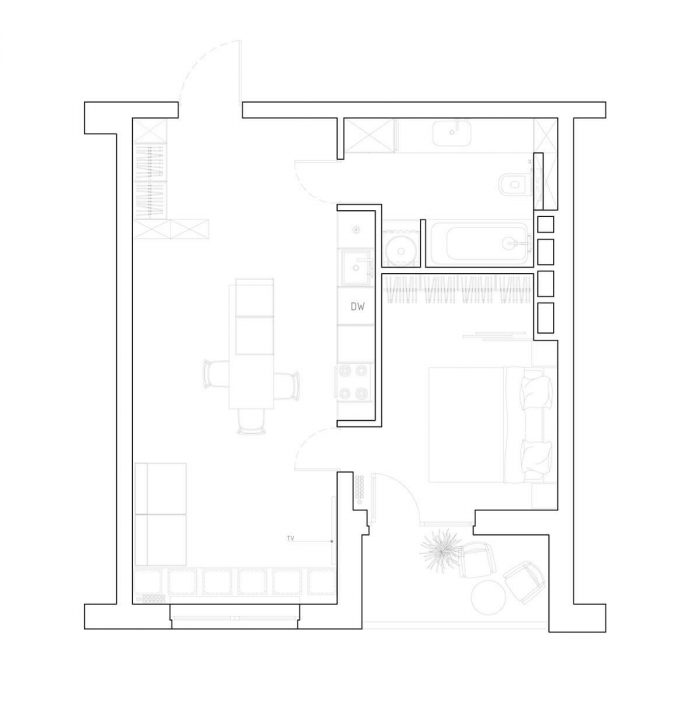 (Click to enlarge)
What is unique about this project? Besides the great artwork related to architectural interiors, you will find something interesting in this project's hardware description. The artist uses unusual hardware and system to render his images. It is almost a standard to find artists running Blender on Windows and Linux machines with beefy GPUs to process interiors. In this case, we have a project rendered with a MacBook featuring some relatively old specs. Nevertheless, it still resulted in quite good renders!
Let me thank Charles Naki for sharing the details about the project with Blender 3D Architect readers.
---
Was it a commercial project? What can you tell us about the motivation for this project?
No, it's a personal project. I was motivated by my taste in decoration. Here I present the perfect example of the decoration style that I would like to have later in my future apartment.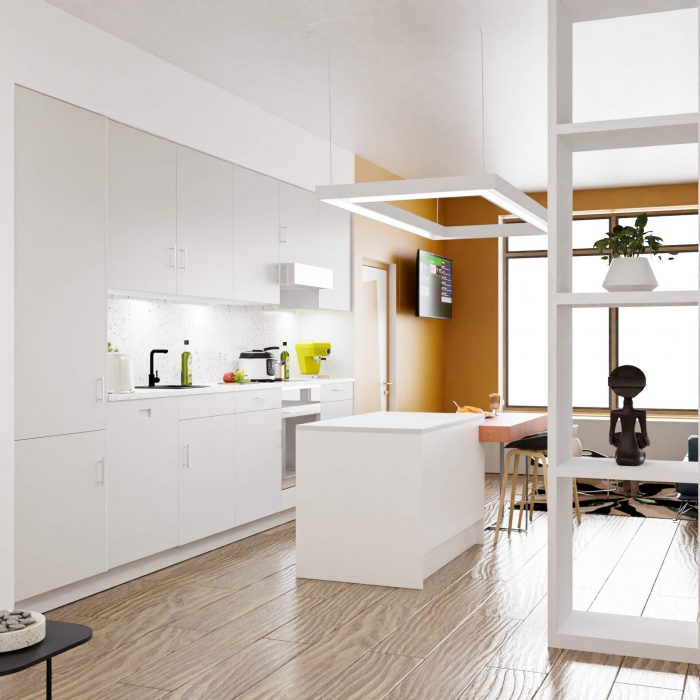 (Click to enlarge)
Did you use any references for modeling, like technical drawings?
Yes, I used a plan made by one of my correspondents on Behance.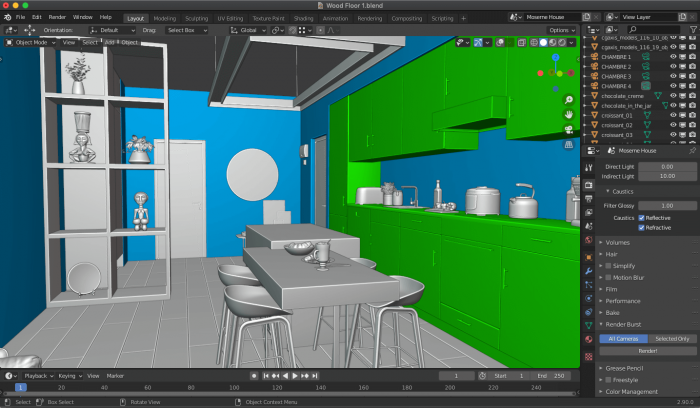 (Click to enlarge)
Did you model everything in the project, including furniture and props?
I modeled 80% of the elements of the scene myself, not a few small details like the bathroom accessories and the plants and flower pots that come from the Botaniq Add-on.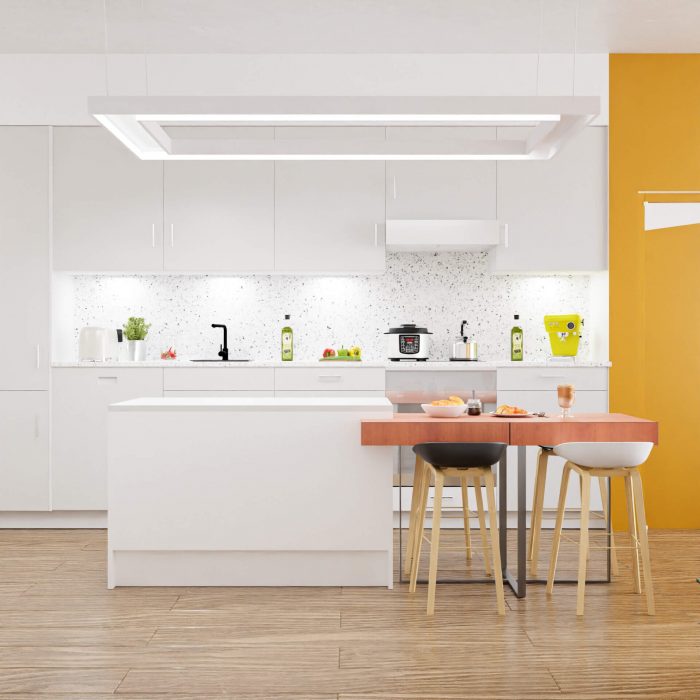 (Click to enlarge)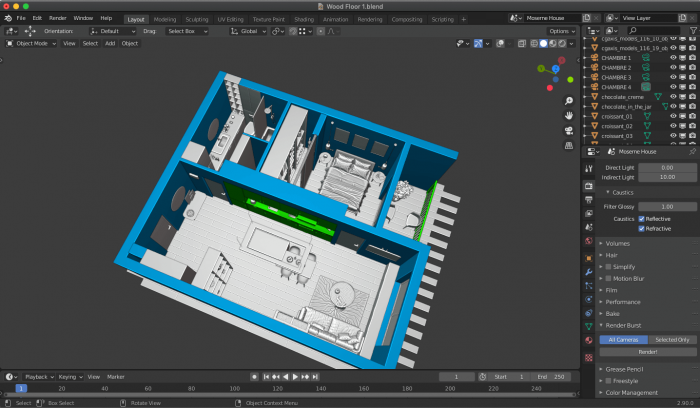 (Click to enlarge)
What can you tell us about the interior design (Layouts, materials, and props)? Did you have to create it yourself?
Interior decoration is an area that has fascinated me for some time. For me, the arrival of super complete software like Blender facilitates architectural visualization and allows everyone, even a beginner, to express their talent, and that's it Great. I created all the materials for this project with textures from the supersite cc0textures.com.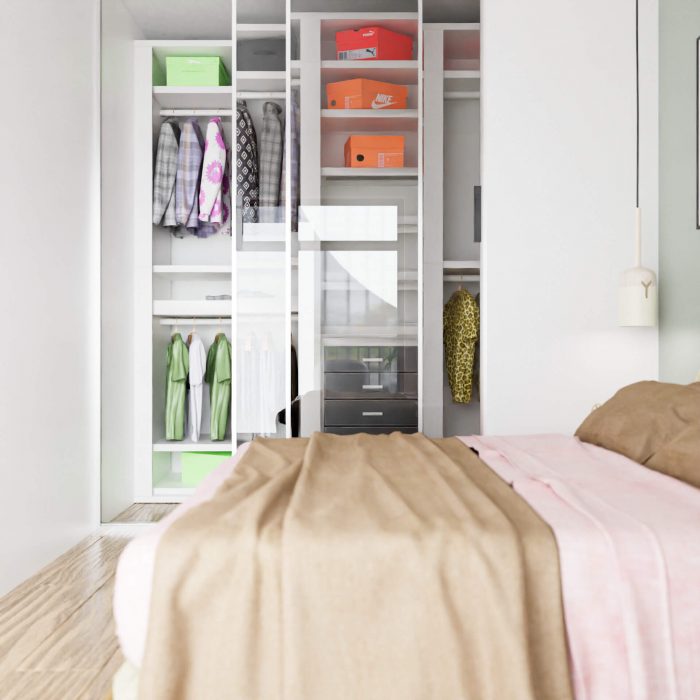 (Click to enlarge)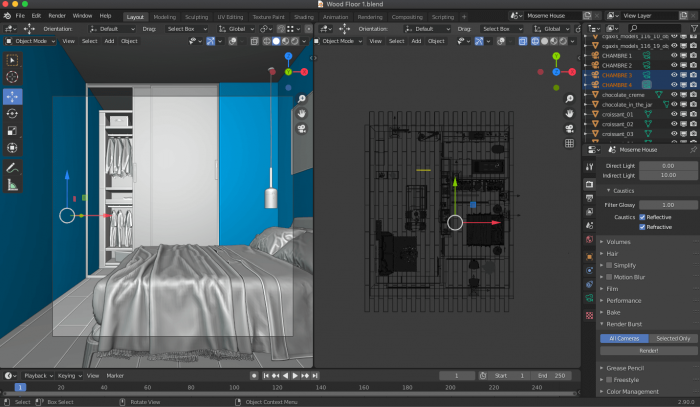 (Click to enlarge)
How long did it take from start to finish?
The modeling took me 12 hours, and the texturing lasted 9 hours because I work with a MacBook not very efficient in terms of rendering took one day.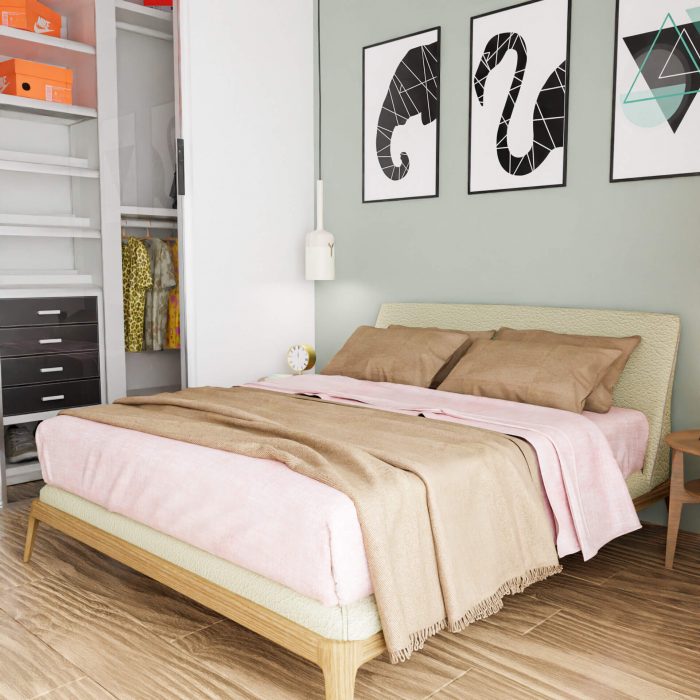 (Click to enlarge)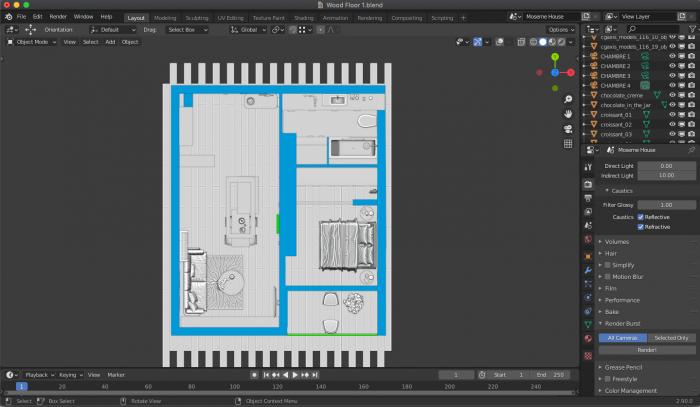 (Click to enlarge)
What hardware did you use to render? Can you share some render times?
I used a 2012 MacBook pro with a 2.6GHz Core i7 and 12Gb of ram with a 1Gb Nvidia 650m, which is not even recognized by Blender. For the renderings, its duration, on average 3 hours per image with a resolution of 1920 x 1920 at 200 samples.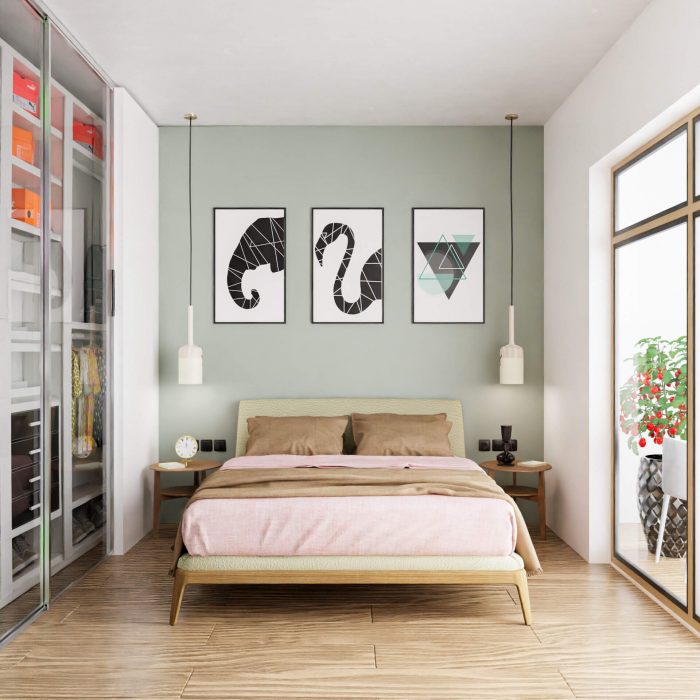 (Click to enlarge)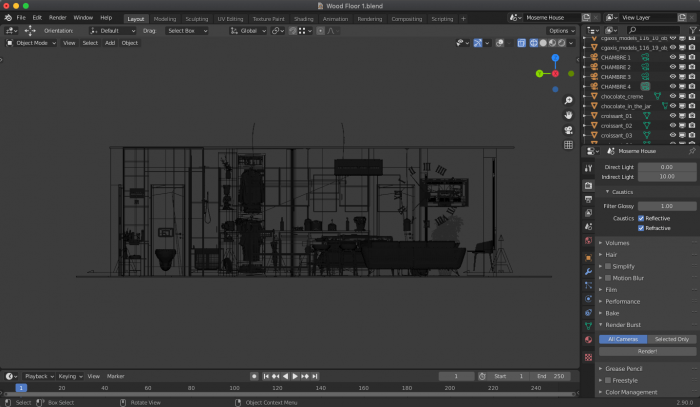 (Click to enlarge)
Can you share any details about the lighting process?
For lighting, I used a sun and three surface lamps, all this coupled with an HDRI.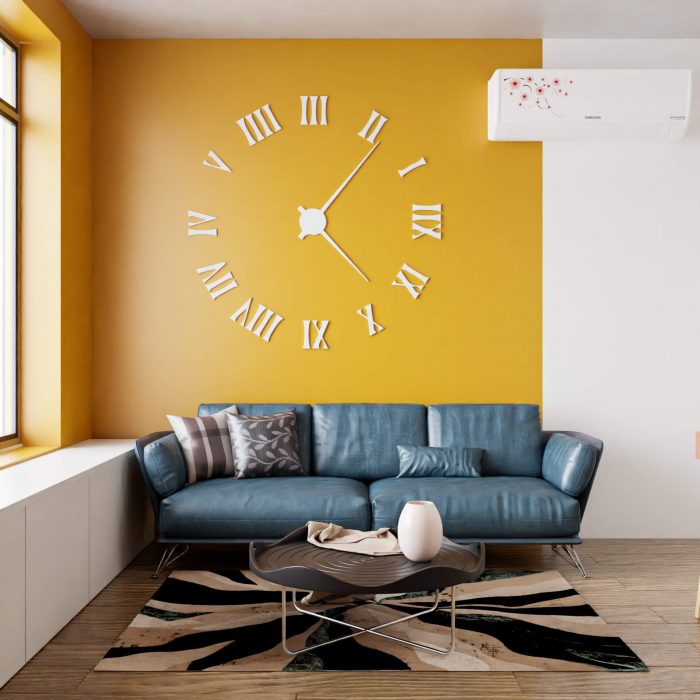 (Click to enlarge)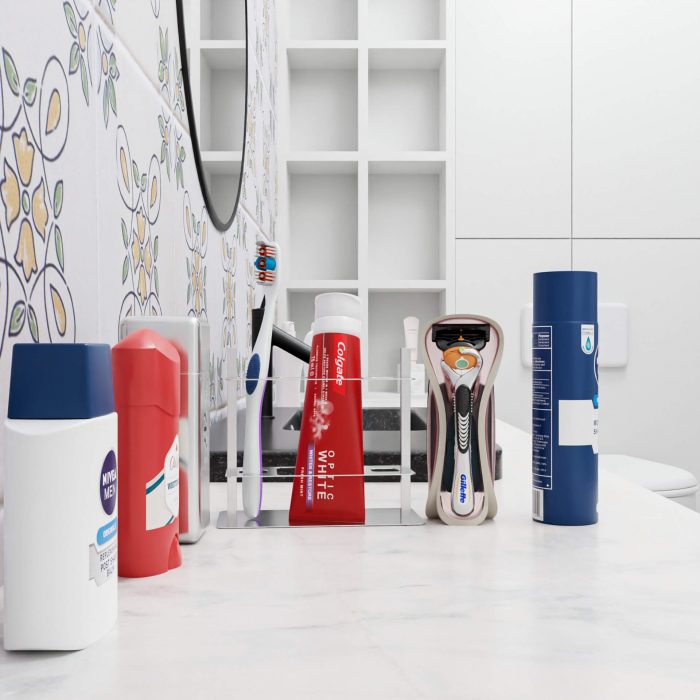 (Click to enlarge)
Did you use any Add-ons or external tools to create the project?
Yes, I used two Addons, including Archipack and Botaniq
What would you say was the most challenging aspect of working on this project?
Modelling, because I wanted to bring more detail to the scene.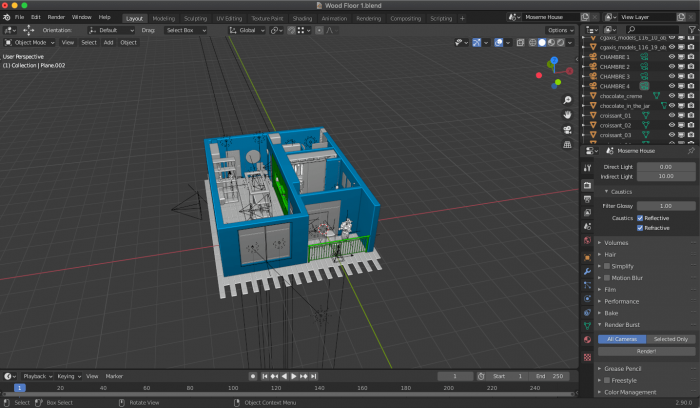 (Click to enlarge)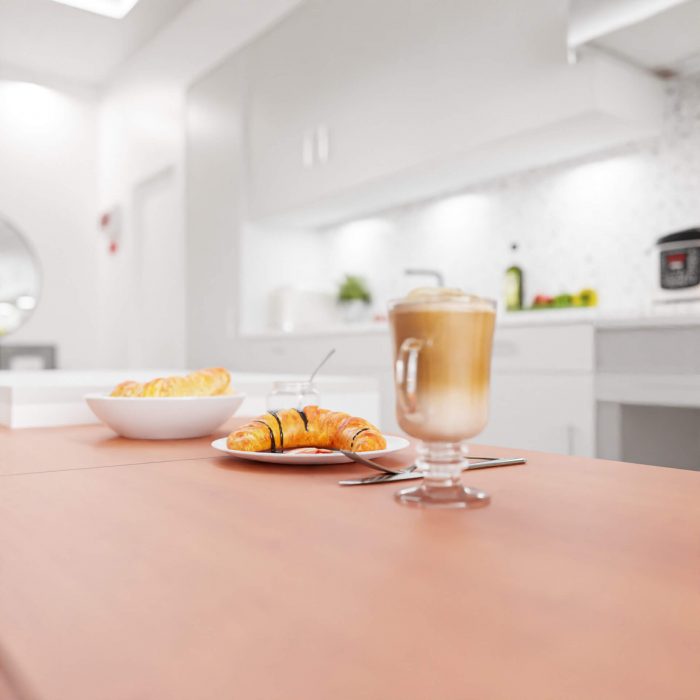 (Click to enlarge)
If you want to share any additional details about the project, feel free to send it!
I liked working on this project because it is my first complete project since I started to be interested in architectural design two months ago.
---
Thanks again to Charles Naki for sharing details about their work. You can check more projects from him at ArtStation, Behance, and LinkedIn.