Jewelry store design made in Blender
A relatively high number of projects created using Blender for Architecture have residences as subjects. In architecture, we have to work on a variety of environments, and especially commercial spaces. One space that I haven't saw until this day was a jewelry store design made with Blender.
Jewelry store design
An artist from Italy called MC78 just posted at the Blenderartists forums a jewelry store design set made of three images. According to the artist, this project required 8000 samples to render. For the time, it took about 1 hour and a half to finish.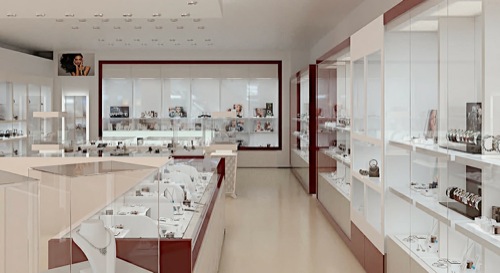 After the render, all images demanded some post-production using GIMP. That was necessary to remove all noise left from the render in Cycles. Even with an incredible amount of samples, much higher than the average of 2500-3000 that usually is necessary for an image.
One of the challenges of creating a jewelry store design like this one is the furniture. If you notice from all furniture models related to architecture in Blender, most of them are not for commercial spaces. For instance, all shelves for this store probably required full attention on modeling.
Not to mention all small jewelry spread around the displays at the shop! In the past, I had to work on projects for a store in a mall and all objects. The shelves and products were all made from scratch in Blender because I couldn't find anything good ready to use.
The positive side of working on a project like a jewelry store design is the improvement of skills. You will need to put in practice all your skills to either sell the project or create a Space that will fit the expectations of your client. A store owner can get nervous about how the design could help him sell more or less.