Free e-book about rendering with Mental Ray for architectural visualization
From all the renders used to create architectural visualization, I believe that Mental Ray is the second most used render engine, right behind VRay. The fact that 3ds Max already came with Mental Ray in all installations is a great help to get more users, but it doesn't mean that it's a bad renderer. In my courses about architectural visualization with 3ds Max, I always pick Mental Ray as the renderer of choice for the course, because of the easy access to the renderer from 3ds Max.
Well, if you want to learn a bit more about the use of Mental Ray for architectural visualization, I just found a great free ebook about Mental Ray for Architectural Visualization. The ebook was created by an artist called Pierre-Felix Breton and it teaches the overall setup of the renderer and a lot more.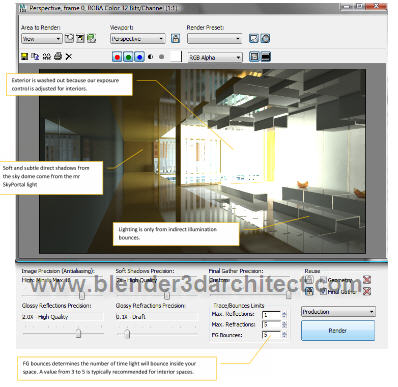 One thing that I really like about this 35 pages ebook is that we can find detailed explanations about visual artifacts that we common get in renderings, because of a variety of parameters and values used in Mental Ray setup. For instance, if the shadows casted by a light source aren't smooth enough, how can we fix that? The ebook shows some examples of artifacts like that and the direct solution on how to fix them. Notice the screenshot that illustrate this article, is taken from the ebook and shows an image with several notes explaining aspects of the rendering.
This is a great resource for anyone interested on learning more about Mentay Ray, or even find out about how those artifacts end up appearing on the image.
Here is a quick table of contents from the ebook:
Materials
Light and Shadow
Units and scale
Recommended light types
Mental Ray render panel
Exterior daylight
Interior Daylight
Eliminating Indirect Illumination Flickering
mr Proxies
Linear Color workflow
Is Mental Ray the best option for architectural visualization in 3ds Max? From my experience on architectural visualization projects and in the classroom, I still think that VRay is best suited for architectural visualization in 3ds Max because of the speed and quality of the images. I know it requires an extra investiment to buy the VRay license, but it saves a lot of time on rendering. I'm even considering buying a VRay standalone license to start working with it in Blender 3D. So, in the near future you may see some VRay tutorials related to Blender 3D here on the blog. Of course, I won't stop writing about the uses of YafaRay, LuxRender, Indigo Renderer or any other tools that could help in architectural visualization.