Eight free cutout people for cafes and restaurant visualization
What are the requirements to create realistic images for architecture? You might think that adding high-quality furniture and setting lights will do the job. On top of all that you also need to give context to your renders.
Such context will require a human scale.
The purpose of those images is to sell a project for potential buyers, and people usually have a hard time figuring out the scale of spaces without a reference. In those cases, the best reference to give a sense of scale is another person.
Adding a person to your images with the correct scale will do a world of difference.
The easiest way to add those references in a project is with cutout images of people. A cutout image has a transparent background and works great applied to a plane.
Do you want to download eight free cutout images for projects related to cafes, restaurants, and dining?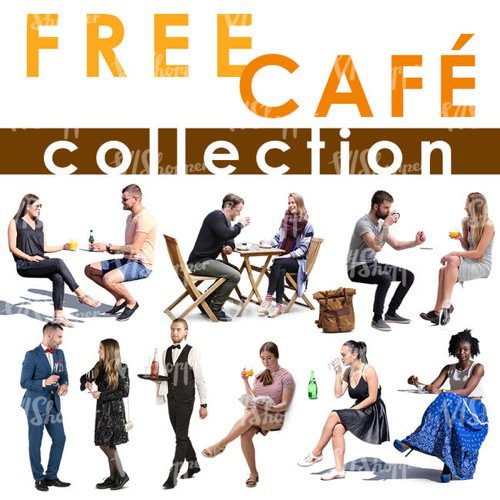 The guys from VISshoper are offering a pack with eight free of those images. To download them you have to visit this link. You don't even have to register or give your email to start the download; it will start the download directly. The file has about 200MB in size.
As for the pack contents, you will find people sitting at tables, eating and drinking. A must-have for anyone working with commercial visualization projects.
Usually, an asset like this one has a lower resolution and quality, but this pack has a resolution of 3000 pixels. In Blender, you can easily import that type of image with an Add-on called "Import images as planes".
What about the license? You will find a description of allowed uses of those images in the VISshopper EULA. The images are not royalty free, but they allow you to use them for projects related to architectural visualization. For any other use, you have to contact them to ask permission.
By the way, if you want even more free cutout people for architectural you can check this huge free collection with 200 textures for architecture.