Free download of 200 cutout people
Why should we use people on our architectural visualization projects? By inserting images or 3d models of future users of a planned space, you will be able not only to show how space will relate to "users" and also give a sense of scale.
A lot of projects we see around focus on getting furniture and textures right, but doesn't show any relation to the way people will use the space. For trained professionals, it is quite easy to get a sense of scale for a project, based on a single render. But, when you show that to a potential buyer it may get them in trouble trying to figure out the scale.
From time to time I do share some cutout people textures here on the blog. By using one of those textures applied to a plane, you will get an excellent reference for scale and at the same time use a lightweight resource, which won't add to much load on render times.
Do you want to get the ultimate collection of cutout people for architecture? It is a compilation made of 200 files. Just follow this link to visit Rone Berkerman's blog and find the download link. Just be patient because it is a relatively large file.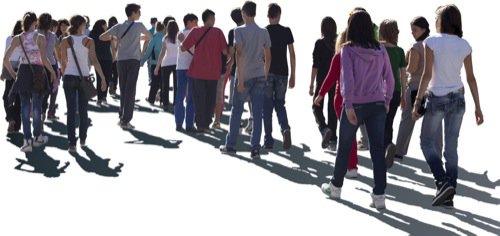 With a huge number of cutout people like this one you will be able to add visual references for your projects quite quickly. Just browse through the files and look for the texture that best fit your project.
Did I mention that it is free?