New script adds CAD like features to Blender 2.54
For architectural visualization artists working with Blender, one of the most requested features for 3d modeling is the ability to work with CAD like tools. There are even a few projects trying to get CAD like tools added to Blender using Python scripts. With the release of Blender 2.5 and his new add-on system, some of those tools are starting to appear, and best of all, blended with the new user interface. One of those tools is an add-on called Slice to Intersection, which works pretty much like some CAD commands we are used to find in softwares like AutoCAD.
To try this add-on, we have to download the script file from the link provided at the Blenderartists thread, and place it at the Blender 2.54 add-ons folder. When it is there, go to the User Preferences window, and activate the Slice to Intersection.
The add-on works with two edges of the same Mesh object, where it can either connect those edges or split them into two separate edges, using the point of intersection. Here are a few examples of how it works, taken directly from the thread at the Blenderartists forums. First of all, we must select two edges in Edit Mode: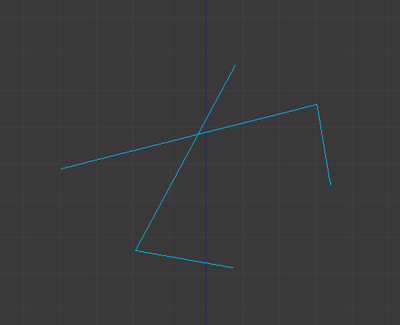 Then, with the W key we will use specials menu to choose the add-on.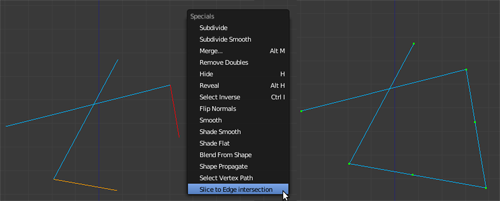 The result will the something like an extend or fillet command from CAD softwares. The edges will be extended until the get connected.
With a different selection, we will get the edges separated.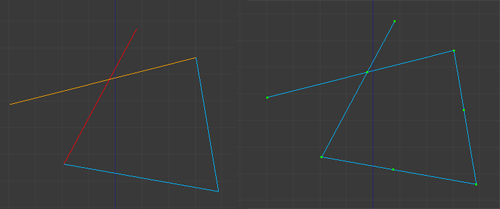 I know this is not much, but with an add-on like this we can start to create 3d models with better precision and control over the polygons. The script was created by an user called zeffii.