New add-on in development: Inset tool for Blender
The main modeling technique used by Blender is polygon modeling, and some tools are quite important to quickly achieve complex topology. For instance, one option that I miss sometimes in Blender is the Inset tool, like the one we find in 3ds max. But, a new add-on still in development may give Blender his own Inset tool for polygons. But, what can we do with thi inset tool? In a few words, it is like an extrude of a face with a smaller scale. We can do that today, but not with lots of faces in different angles at the same time. This is one of the applycations of the Inset tool.
To download the Inset Add-on for Blender, visit this thread at the Blenderartists forums, where you will find the instructions to install the Add-on.
The Add-on is not finished yet and for some types of polygons, we will get strange results. But, it is a great start, and maybe in the future a real Inset option will be available. Maybe with the release of B-Mesh and the use of N-gons we can get better results with this Inset option.

By now, there are only two options with the Add-on: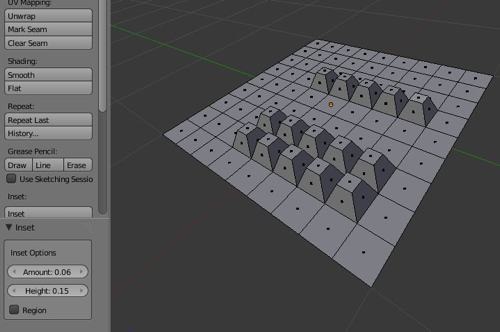 Amount: Distance between the edges of the selected polygons and the ones created by the inset.
Height: Height of the polygons created by the inset.
Region: Create the inset as if all polygons selected where a region.