Blender 2.8: From layers to collections
A significant upgrade for Blender is coming in the next couple months, and that will introduce some great new features like Eevee. For artists currently working with Blender 2.7x, a few changes will affect your modeling workflow.
One of those changes will be in the way you organize the scene, with a new tool replacing the layers. What new tools is that? I'm talking about collections.
Do you want to learn how collections work in comparison to layers?
A few points about the following article:
I'm using an experimental build of Blender 2.8. The article reflects a possible unfinished feature;
You can get one of those builds here;
Use that experimental software with caution;
If you are a premium subscriber, you can download that model from our asset list.
From layers to collections
One of the features of Blender that will receive a significant change in Blender 2.80 is object management. Nowadays we use the layer system to control groups of objects. The current system is there as far as I can remember.
The layer system has several limitations like the maximum number of slots, which is twenty, and the inability to let you name each layer. There are Add-ons to help with that, but it would be nice to see it as a feature.
In Blender 2.8 you will see a complete change in object management with the introduction of collections.
When you open Blender 2.80 for the first time, you will probably feel a bit lost, especially coming from years using the layer system.
How does it work? How can that help you with architectural modeling?
Let me show you how collections work with a quick example. Once you get the concept, it becomes clear that using such system will give you better options to organize your work.
Collections for modeling
What are collections? Collections in Blender 2.80 works much like groups, but with a lot more control options.
You will find collections in two primary locations in Blender 2.80, which are the outline window and the properties. At the properties window, you will get a dedicated tab for collections.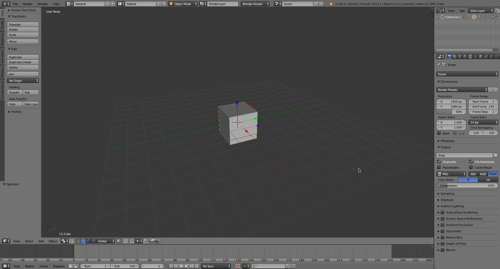 For our example, we will focus on the outliner to organize a scene using collections. Each collection has a visibility control and also a way to disable selection.
Here is our scene coming from Blender 2.79.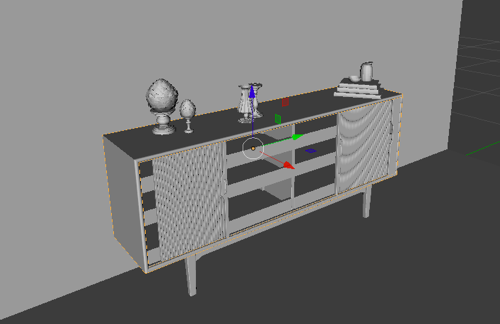 The file was initially made for Blender 2.79 and doesn't use any layers or collections. At the Outliner window, you will find a default Collection 1.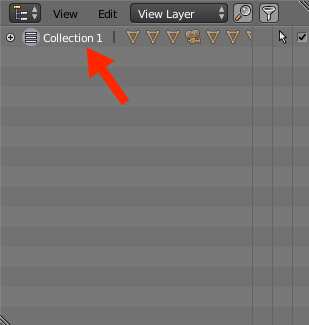 That is part of a Master Collection, which will organize your scenes. Where is that Master Collection? If you change the view type in the Outliner to Collections, it will appear.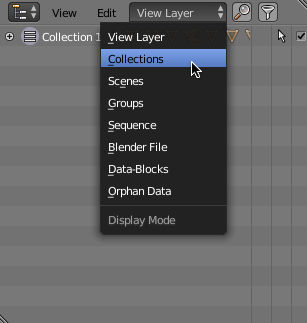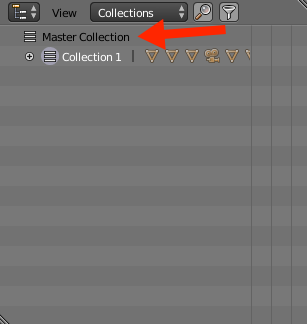 I will go back to View Layer and work on our collections.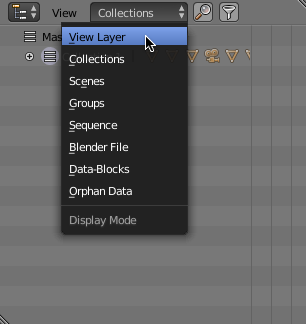 Now, if you expand the list of objects in that collection, you will notice that everything is there! From objects to lights.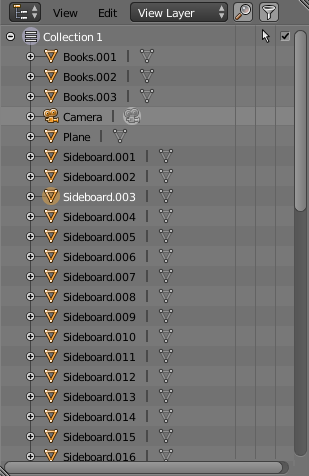 That first collection works like the default layer slot in Blender 2.79. If you don't move objects to other layers collections, they will remain in the Collection 1 forever.
Using the collection system
In the scene, you will find that I have a sideboard, vases, books, and a light source.
I could create new collections and move objects, but I wouldn't be using a great feature from Blender 2.80. The feature is the possibility to create nested collections.
The vases and book are on top of the sideboard. For control purposes, it would be great if I could somehow relate the collections of vases and books, to the main sideboard.
Is that possible? Absolutely!
First of all, we have to create new collections.
To create new collections, you can either right-click on top of the Collection 1 (for nested collections) or use the Edit menu in the Outliner Window.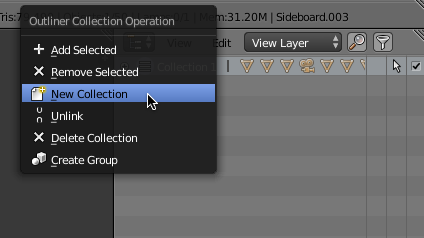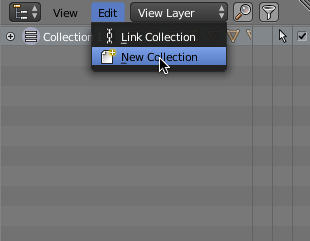 I will create two new collections. One for the sideboard and other for lights.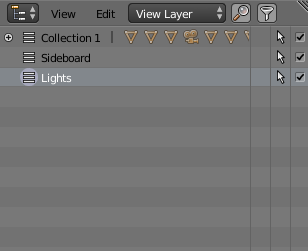 What about the vases and books? To make nested collections, you can right-click on top of an existing collection. In my case, I will right-click on top of an existing collection and choose "New collection." A new nested collection will appear.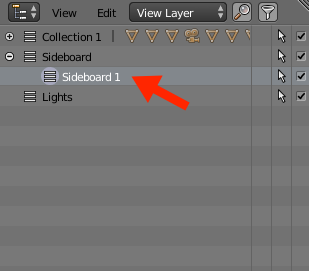 By the way, you can rename any collection by double-clicking on the actual name.
Add two new collections for vases and books.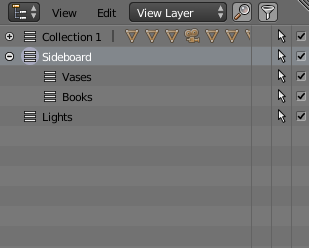 Moving objects to collections
Those new collections are all empty. How to move objects to them? In the "old" Blender 2.7x you would have to use the M key, to move a selected object into a layer.
In Blender 2.8 a way to set collections for objects somehow similar. First, you have to select one or more objects. And right-click on the collection you wish to use.
There you will find an option "Add Selected."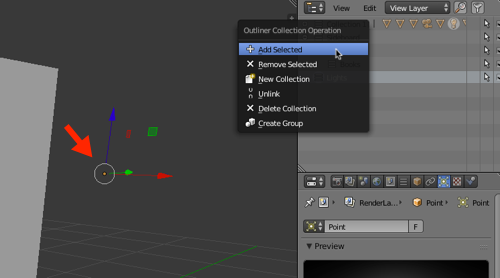 And all selected objects will now be part of that collection.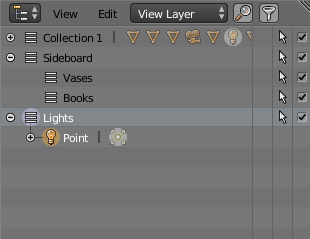 Now you have objects organized as collections! You can have as many collections as you need, and not just twenty of them like in Blender 2.7x.
Tip: You can also drag and drop objects to add them to collections.
Next steps with collections
A few points are still unclear about how collections will evolve to the stable version of Blender 2.8. Since the software is still in development, you may expect some changes.
A problem I found in the current state of Collections is the display of duplicates.
For instance, if you just work with collections alone, it will list each object just once. But, collections are not hierarchies.
If I choose to also set a hierarchy for my objects and using the CTRL+P key make the vase and books, a child of the sideboard. The objects will appear two times in the outliner.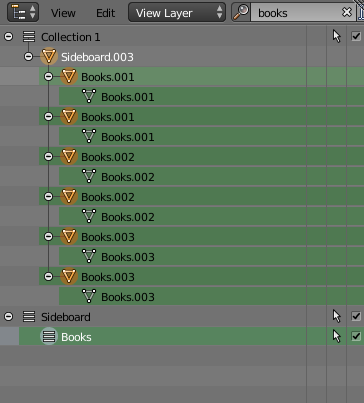 The development team will probably find a way to avoid that in the future.
Collections are a simple, yet powerful new tool for Blender 2.80. Now you have a basic understanding of how it works.
Architectural modeling with Blender
If you want to learn more about architectural modeling with Blender, take a look at our online trainings:
Are you starting with Blender? We also have a Blender basics for architecture course, which is free.