2GB in free PBR textures of leaves and vegetation
In landscape architecture, you need a way to create vegetation using either textures or 3d models. For both scenarios, you assets library will be essential to achieve good results quickly.
That is a great reason to start building your asset library as quickly as possible because you never know when you might need to work in landscape architecture. It doesn't even have to be a landscape architecture only project. Just a garden for an external visualization might give you headaches to find quality assets.
Do you want to download some free PBR textures of leaves and vegetation? And add them to your library?
An artist called Wojciech Piwowarczyk shared on his Gumroad page an extensive collection of free PBR textures of leaves. The collection is a sum of 26 individual packs of textures. Each texture has a resolution of 4096 x 4096 pixels, and all packs will make a total of about 2GB in size.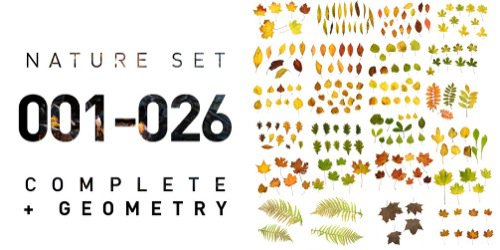 With that collection, you can create PBR materials in Cycles, because it offers a great variety of textures for your projects. You will find on each pack textures for diffuse, specular, displacement and other channels. You can quickly build realistic shaders using such maps and get excellent results in Cycles.
Do you want to download all textures for free? There is a small inconvenience with this collection. When you visit the Gumroad page, you will notice that you have to get all 26 packs individually. There is a full pack with all textures, but that is not free.
A small inconvenience, but still worth the download.
What about the license? According to the author the textures are free to use in both personal and commercial projects.
Don't miss the opportunity to add several PBR textures of leaves and vegetation to your library. For landscape architecture, it is something that will make a huge difference, especially in external visualization projects.