NPR with Blender and Freestyle: First builds of the SoC 2008 project
If you want to work with Non Photo real Renderings (NPR) with Blender 3d, a new feature of Blender will probably make your lives easier. One of the SoC 2008 projects will enable all Blender artists to use Freestyle as an external renderer of Blender, with only a few mouse clicks. Today, the easiest option if you want to use an external render with Blender is YafRay, I mean easiest because all we have to do to use it, is choose "YafRay" at the render panel and hit F12. Of course you still have to install the software, but it`s a lot better than export a file and open another software to render the scene.
That's the workflow if you want to use Freestyle today. With the efforts of Maxime Curioni, we will have the same easy of use with the Freestyle render. But, what is Freestyle and how can it help me with my architectural vitalization projects?
Well, most people only imagine architectural projects been presented with photo real images, but for some projects the use of stylized images is a better option. Before the spread of 3d visualization software, a lot of projects were presented with watercolor images and other formats not related to computers.
And that's what we will be able to do with Freestyle, render a scene directly to a stylized type of image.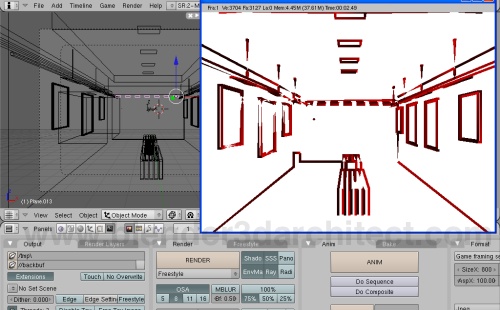 I know, you are probably wondering that it would the same thing as take the rendered image and post-process it in Gimp or Photoshop. But, what if you want to make an animation? Or just don`t want to post-process it?
In my opinion, the project will bring another great option for all professionals and students that want to use Blender as a tool for architectural visualization. The project is in development, but there are a few experimental builds available to download at graphicall.org.
The image that illustrates this post was rendered with the test build for windows, but there are options for OSX and Linux as well.
If you want to give it a try, download the build that best suites your OS and test it!
There are some artists already using the builds to create some stunning work, go check out this animation test.