10 Free bakery assets for interior visualization
When you are working on a project like a kitchen visualization, you will have to deal with the usual aspects of any architectural scene, like lights and textures for the stage. At some moment, you will realize that a kitchen scene requires more from your asset library.
You will have to use lots of small assets and objects to give the proper context for a kitchen in 3D. For instance, do you have a good variety of food items as assets for 3D scenes?
If you don't have any of those assets, you can get some of them for free. The collection is a work from digital artist Tomáš Búran and is available at Gumroad.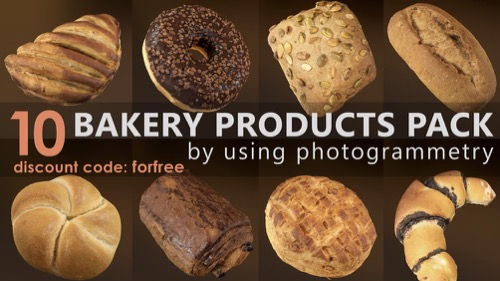 He is offering a pack with ten bakery items in 3D that have an incredible level of realism.
Before you rush to Gumroad, you must take note of a coupon code that makes the download free. You must use "forfree" at checkout to get the collection at no cost.
All textures from the collection are in 4K, and they will work great with both Cycles and Eevee.
Blender 2.8 for architecture
Do you want to start to use Blender 2.8 for architecture? Our latest book Blender 2.8 for architecture: Modeling and rendering with Eevee and Cycles will teach you all the new features and workflows.
You will learn everything you need to know about how to create 3D models, import CAD references, and rendering with Eevee and Cycles.
The book is available in digital and paperback formats.