150 free IFC files with architectural projects and assets
Whenever I find a great source with architectural designs or assets that can benefit our readers, I try to share them here in Blender 3D Architect. The only times when such a resource doesn't appear here on the site are when the material is not free to use and requires a license or paid content. Those files are usually available in OBJ, FBX, or BLEND file formats.
Until today, I never shared any libraries in the IFC file format. This ends today!
Do you want to download 150 models with various types of projects in IFC format? The University of Auckland (New Zeland) has a great public repository with dozens of IFC files with architectural designs.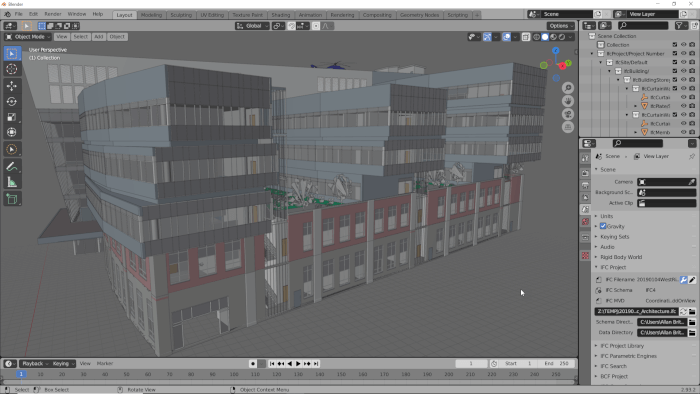 Source: University of Auckland
You will find all types of projects there like an Hospital building with a complete set of files (Architecture, Structural design, Eletrical systems, and more), or a conference center architectural project.
Most of the designs came from softwares like Revit or ArchiCAD, but they work great with Blender thanks to the incredible BlenderBIM. You can easily import any of those IFC files to the software regardless of complexity or size.
What is an IFC file? A BIM design is a method used nowadays to create most architectural projects from a 3D model.
The license of the files is usually creative commons with an attribution requirement. Most of them even allow us to use the data for commercial projects.
Using Blender for architecture
Do you want to use Blender for architecture or render your projects using Cycles or Eevee? We have three books available that could help you!
They cover the use of Blender for producing architectural content and also all information you need to render projects in real-time:
You can get them in both digital and paperback formats. By ordering those books, you will not only improve your skills with Blender for architecture but also support Blender 3D Architect.