More tutorials and examples of interior design with Blender 3D and YafaRay
In the past few days a lot of interesting materials and tutorials have been published about the use of YafaRay and Blender 3D for interior design and architectural visualization. I`m going to point out some great resources that works as examples of artwork created with Blender, and also as a way to learn more about the setup of YafaRay for interior scenes. The three tutorials and scenes that will be recommended in this article use the Photon Mapping method of YafaRay to render the scenes.
The first scene, which is an old office view was created by Gabich and published at the Blenderartists forums, and it`s the only project that hasn`t the render settings available, at least until I wrote this article the author didn't post the settings at the thread. An interesting thing about this work is that Gabich post a lot of renders from the objects used in the project.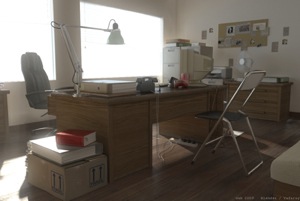 Image credits to Gabich
Our second example was created by Ron7 and was also published at the Blenderartists forums. The project is an internal view of a living room, and the author posted the render settings for the scene, which is a great way to learn how he did the render and compare with other projects created with Blender and YafaRay. A nice trick used in this project is the placement of an Area Lamp near the window to create the bright effect saw in the render. Along with the settings, the artist explains a few details about the modeling and animation process.
And the final, and most complete example that uses YafaRay for interior design, is a full tutorial showing how to model and render a kitchen. This is the most complete example, because it start from scratch, with a empty 3d view in Blender and go step by step through the modeling of the scene until the setup of the materials, lights and the final render in YafaRay. The tutorials have almost a hundred screenshots with explanations of the procedures to follow up the scene.
If you want to learn more about YafaRay I recommend all those examples and tutorials. They are valuable resources to anyone interested in architectural visualization with Blender 3D!