Blender 3D 2.50 and stereoscopic render in interactive applications
A lot of companies developing 3d applications like games and interactive displays are using stereoscopic render to allow users a better experience, by viewing all environments with a greater sense of depth. A few weeks ago I have already talked about stereoscopic render for architectural visualization, using even a pool to ask if you consider this type of technology for your visualization projects. The results of the poll show that artists are considering this technology as an interesting item for architectural visualization projects. Almost 40% of all answers point that we will have to learn how to use this feature.
I'm in the process of learning Blender 2.50 and preparing a lot of material that I have to migrate from 2.49 to 2.50 and this involves a lot of research and investigation. This week I found something quite useful for artists willing to use stereoscopic render in interactive applications. At the game engine we will be able to use several types of stereo render without the need for plugins or scripts.
Here is how it works!
Before we can see any of the stereo rendering options we must change the render output of Blender to be Blender Game.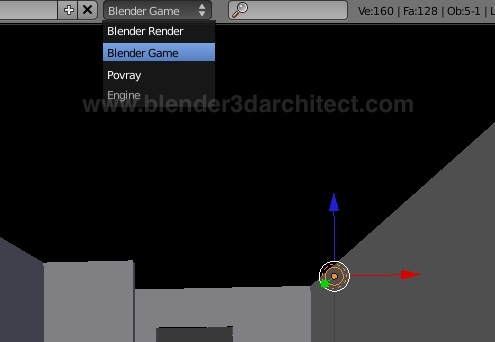 When the Blender Game is set, the render menu will change and the will be a Stereo menu available. Press the Stereo button and pick one type of stereo rendering from the list.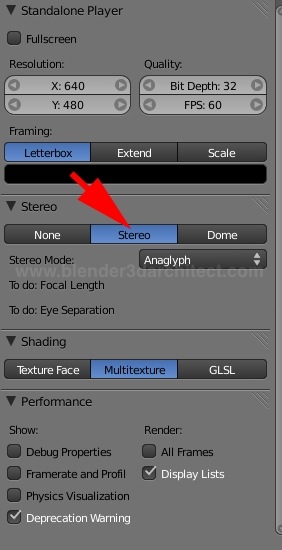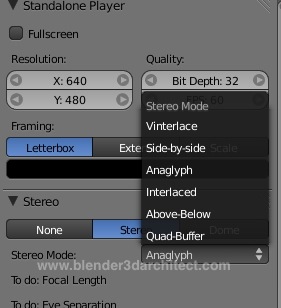 If we press the P button to start a real time render with the Game Engine, we will see a stereo render in action.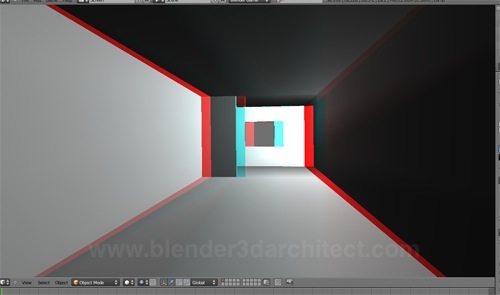 Of course, by this hour it will be necessary to put your 3d glasses to see the differences on the visualization. I just found the feature and didn't have the time to make serious tests with it, but it's a great feature to have this already integrated to the game engine in Blender. I knew that I should keep 3d glasses in nearby to make tests with that kind of feature.
For stereoscopic render in animation and still images, you can try this script developed by Sebastian Schneider. It creates a stereo camera for Blender 3d.