California Hotel Infill with Blender Cycles (Profile)
The project profile series of Blender 3D Architect is a collection of articles with the aim of feature projects related to architectural visualization. We invite talented artists to share additional details about each project to demonstrate how they approach each stage of the process. And also allow each author to publicize their work among our readers.
How does it work? It is like an interview, where we sent a couple of questions about a project for the artist.
If you want to check previous project profiles, visit this link.
Today we have a project profile from architectural visualization artist Artur Szóstakowski. With the title of California Hotel Infill, the project shows the exterior visualization of a hotel building in the United States.
What is unique about this project? First, it is an opportunity to check out a project that is not related to residential interiors, which is the most common type of project in architectural visualization, and also look on how to artist manages to set up an external scene for a building.
Let me thank Artur Szóstakowski for sharing the details about his project with Blender 3D Architect readers.
Here is the project profile.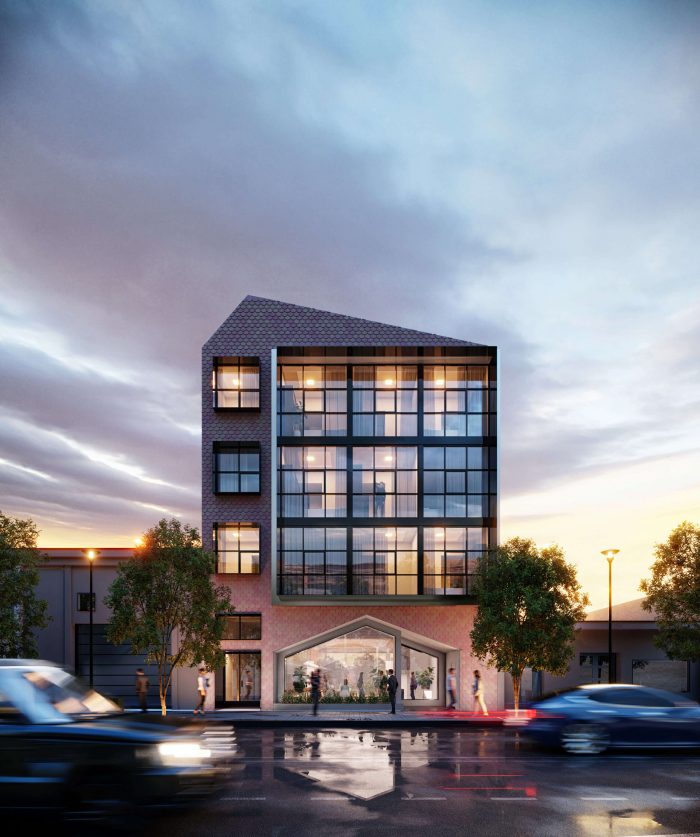 (Click to enlarge)
---
Was it a commercial project? What can you tell us about the motivation for this project?
Yes, it was a commercial project. The client already had a well-established idea of what he is looking for, and he prepared some description and reference shots as well.

As stated by the description, he made himself "the project is an urban hotel infill with the idea that it should stand out from local neighborhood becoming the nucleus of a busy and active community hub."

To sum up, the task was to make two frontal exterior shots of the building in two different times of a day.
Did you use any references for modeling, like technical drawings?
No, I did not, but I got a model from SketchUp that was my reference. I needed to replace some of the models used there, create a dollhouse-like facade, and give all the materials. The building itself was well modeled but needed some adjustments.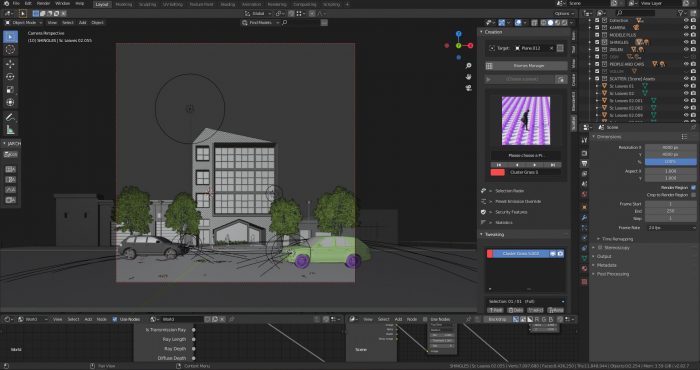 (Click to enlarge)
How long did it take from start to finish?
The whole process took me three days to finish for about 8 hours of work each day.
What hardware did you use to render? Can you share some render times?
I render on my CPU supported by GPU – i7 5820 CPU and GTX 960 card. Render times on 4000×3000 px resolution and 1000 samples were 5 hours each.
Can you share any details about the lighting process?
For a dusk scene, I used an HDRI with light within rooms of the building, and some environmental lights like under trees or car lamps. For the day scene, I also used an HDRI and added some lights that emphasize the shape of the building like a spotlight on top of the roof.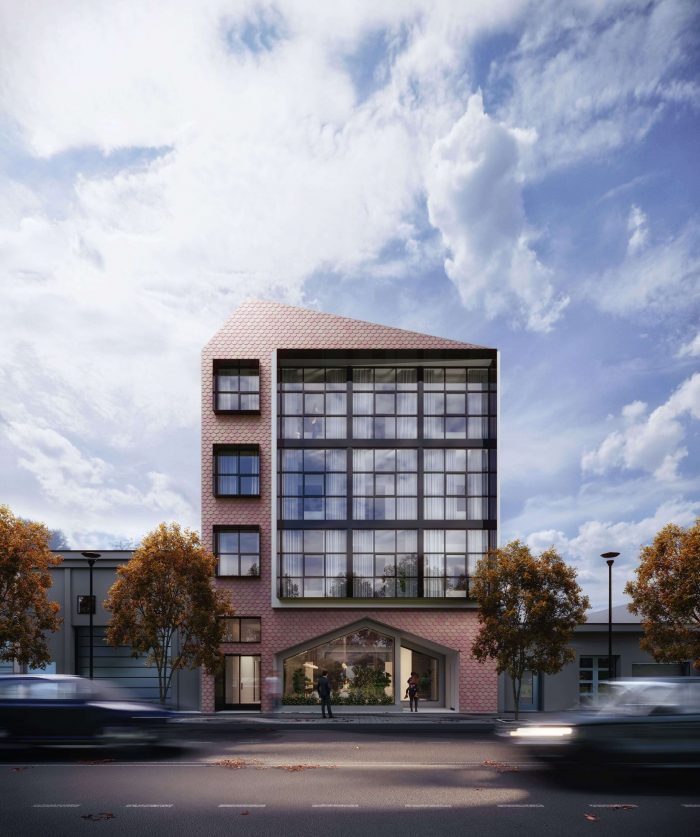 (Click to enlarge)
I notice that you rendered the same scene in two different setups daylight/sunset. Was that a request from the client?
Yes, that was a request form the client. He wanted the same specific frontal exterior shots but with different daytime and environmental setup. Both images needed to include some cars and people to create visibly, on a regular basis, attended hotel/restaurant.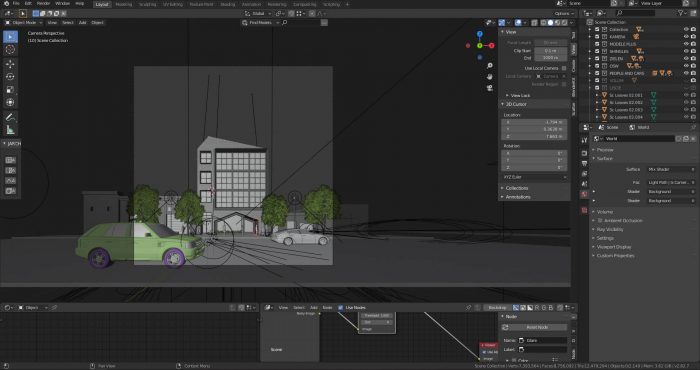 (Click to enlarge)
Any additional details about the project you want to share?
Little counterintuitive thing maybe that I modeled the elevation instead of using a texture with displacement. I could not get it to work the way I wanted by using textures, so I quickly modeled a shingle and by using array and boolean got the result I wanted. The client said that this building should have a dollhouse-like effect, and I hope I have nailed it correctly.

I used a scatter addon to add some dead leaves on the street to create a little bit of an autumn atmosphere.
---
Thanks again to Artur Szóstakowski for sharing details about his work. If you want to reach him or see more of his architectural visualization projects, visit his Behance profile.