Seven free seamless PBR wood textures
In furniture modeling the most common type of texture that you will find is wood. For that reason, it is imperative to have a reasonable collection of wood textures that gives you flexibility and a wide range of options.
Do you want to download a free pack of wood textures? An artist called Artem Paramonov shared on his ArtStation page a small collection of those textures. The collection was born as part of a collaboration with a furniture designer.
A base collection of wood textures for anything related to furniture rendering. They are all tileable textures with a resolution of 4096 x 4096. Just one texture has half the size (2048 x 2048).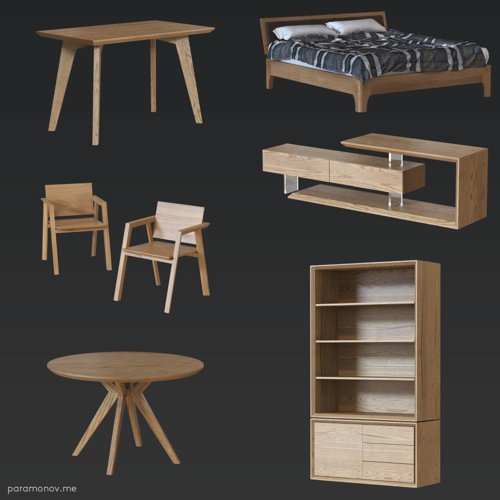 When you visit the site to get the textures, you will see that the artist made them use with Maxwell Render. All shader files are in MXM format, which we cant read with Blender. However, you will also find that the textures for those shaders are in a separate folder, as "plain" image files.
That means you can use the textures alone with Blender or any other software you like. There are four types of maps available for the textures:
Diffuse
Height
Normal
Roughness
With those four maps, you can craft PBR materials with either Cycles or Eevee. A total of seven different types of wood textures are available to download.
How to download? You have two options to download the texture pack. You will find links for both of them in the authors ArtStation page. The first one is using a direct link to the authors Google Drive, and the second is with a Gumroad page.
What about the license of use? Unfortunately, the author doesn't make clear whether we can use them for commercial projects. He only uses a description of "free materials." Even in the ZIP, you won't find any information about the license.