Free PBR Brick texture
Some surfaces will eventually appear in architectural projects more often than others. For instance, a brick wall is a common type of surface for interiors. Having that type of texture to use in Blender is critical. Do you want to add a free PBR Brick texture to your asset collection?
Free PBR Brick texture
The resource is available on the Gumroad page of artist Andrew Alexandrov. He made a free PBR Brick texture that you can download and use in any project related to digital art.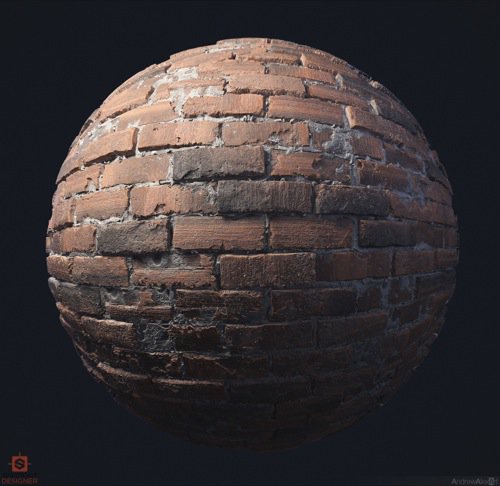 The free PBR Brick texture has a project file for Substance Designer. But, if you don't have access to Substance Designer all texture files are available in TGA. As for the resolution, all images have 2048 x 2048 pixels in size.
You can quickly get the free PBR Brick texture files to use with either Cycles or Eevee.
Another positive aspect of that collection is the license. You can use the images even in commercial projects.
If you want to get another collection of brick textures, don't forget to visit this free seamless brick textures pack.
PBR Texture
What is a PBR texture? When you get a texture file to use in any 3d software like Blender, you probably will find several different maps available. The most common is the diffuse map, which represents the "visible" colors of your texture. However, to make a surface more realistic, you also need other maps.
Those maps might come as normals to create deformations or specular highlights.
A PBR texture will help you to achieve a realistic effect with the sum of those maps. In most cases, you will find free textures that only feature the diffuse. Finding one with many options and as creative commons is rare. You can't miss this download.
How to download?
How to download from Gumroad? The download of that Free PBR Brick texture will lead you to Gumroad. Even being a free download, you will have to set a value for the asset. It can be anything, starting with zero. If you want to download it free of charge, just set the value to zero.