150+ free PBR Textures for architecture
After working on several different projects related to architectural visualization in Blender or any other 3D application, you will quickly realize that textures are an essential asset. Having a library of textures that you can count to prepare a scene for rendering can make a massive difference in your productivity.
For that reason, you should always try to gather as many free PBR textures as possible for your library. There are a few locations with free PBR textures that offer files with creative commons zero licenses, which you can use to populate a personal library.
As a new location to get free PBR textures, I present to you Public Domain Textures. A project from Frederic Hoffmann that has today about 150 free PBR textures for download.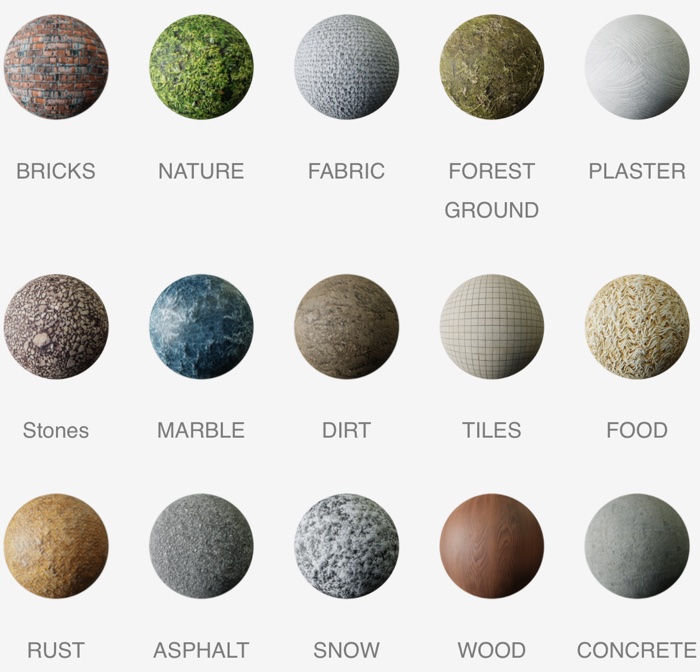 There you will find textures with resolutions going up to 8K (8192 pixels) in categories such as:
Bricks
Tiles
Wood
Concrete
Asphalt
Marble
Stones
You will even find a category for unusual types of textures like Food.
Besides offering textures with an incredible resolution like 8K, you can rest assured that all files are in creative commons zero. You won't find any restrictions regarding licensing and redistribution of those files for any projects.
Do you want even more free PBR Textures? Make sure you also visit the following online libraries:
All those libraries accept donations from users to keep them posting new resources, including Public Domain Textures.
Using Blender for architecture
Do you want to use Blender for architecture or render your projects using Cycles or Eevee? We have three books available that could help you!
They cover the use of Blender for producing architectural content and also all information you need to render projects in real-time:
You can get them in both digital and paperback formats. By ordering those books, you will not only improve your skills with Blender for architecture but also support Blender 3D Architect.