Creating technical drawings with Blender 2.8
One of the main tools used by people working in fields such as architecture, engineering, and design is technical drawings. That is the best way to register and communicate ideas about a project. You can draw using real-world precision and proportions, which will let anyone understand and visualize your proposal.
For such graphical pieces, you would usually take software that has specialized tools to create technical drawings. Those software are usually expensive and will impose to use a totally different workflow.
What if I told you that Blender can also create technical drawings? Do you want to learn how to render technical drawings with Blender?
We are proud to announce a new book from Blender 3D Architect, which is Blender 2.8 for technical drawing: Render 2D drawings for architecture, engineering, and design.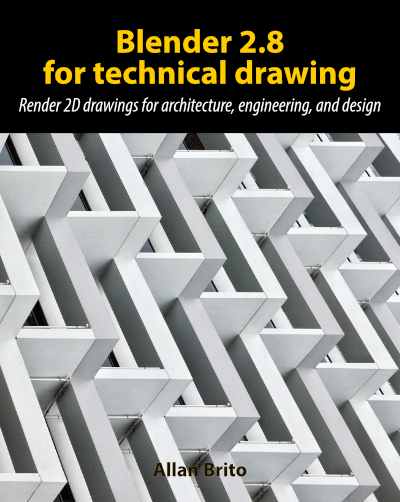 In the book, you will learn how to create 2D drawings from Blender and even save them in vector format (SVG). Here a summary of what you will learn:
Preparing Blender for 2D "Drawing"
Using precision modeling techniques
Rendering a technical drawing
Using View Layers to control rendering
Adding CAD Blocks
Creating annotations and symbols
Adding dimension lines
Rendering isometric views
Exporting drawings in SVG
The book is available in both digital and paperback formats. It already uses Blender 2.81 and you can download all files used in the book.
More info is available at the book details page.