Importing SketchUp files to Blender 2.93 (2021 SKP)
In Blender, we have a lot of options to create 3D models using powerful tools using either polygon or curve-based workflows. Even with all that flexibility, it is sometimes faster to import existing data to a project to save time. For instance, you might want to use furniture models from an online library or start a design from a reference file.
A popular source of 3D data for architecture is SketchUp, which lots of professionals and companies use to build ideas for a project. From that first idea in SketchUp, they might want to hire a visualization artist to further develop the concept in Blender. That is when a SketchUp importer becomes a critical part of Blender.
So we have a native option to import SKP files? Unfortunately, there is no default importer for SketchUp. But, due to the efforts of independent developers, we have reliable custom importers for SKP files.
It all started with Martijn Berger in version 2.7x with an importer capable of handling SKP files in Blender. After the release of Blender 2.8, another developer forked the project, and we got an update from Arindam Mondal to versions 2.8 and 2.9.
Today, we are currently at version 2.93 Beta of Blender, and the SketchUp Importer 0.21 still works. It provides compatibility with SKP files created with SketchUp 2020. What about SKP files created with SketchUp 2021?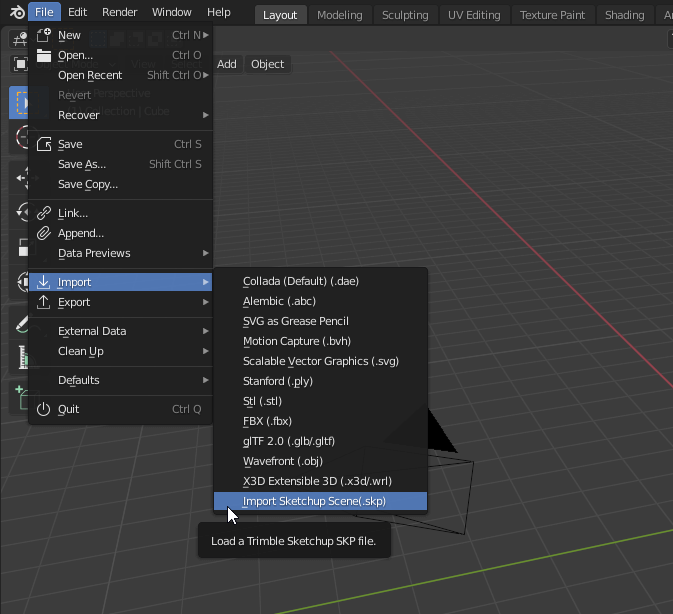 For those files, we would need an update to the importer. We found another fork of the SKP importer that is compatible with both Blender 2.93 (Beta) and SketchUp 2021. You can grab version 0.22.3 of the importer from Red Halo Studio on Github.
The importer works with Blender and promises to improve compatibility with newer SKP files and bring more SketchUp data to Blender. We already covered the old SketchUp (SKP) importer for Blender 2.9 in the past and will keep an eye on any updates.