Is SketchUp Make really free for architects?
What is the best option for an architect to work with 3d models and visualization of their projects? I always get this question from fellow architects every time the subject comes to the table. And you can imagine that my answer starts with the "B" letter. But, it's quite common to be questioned about how Blender would compare to other options like SketchUp as both are free tools for architecture. This is the point where the conversation gets a little confuse for architects that don't care much about software licensing terms.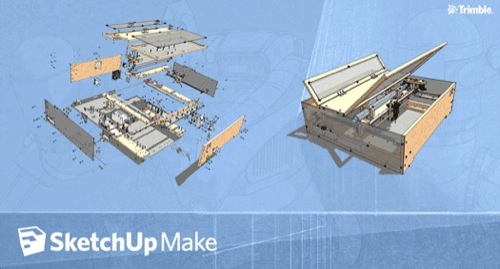 In case you doesn`t know anything about SketchUp, lets make it clear for you. There are two versions of the software:
I can't deny that SketchUp is great software because it is easy to use and allows us to create 3d models in an incredible speed! If you place all your work on the free version of SketchUp, beware that his EULA doesn't allow you to profit from your work using the free version. And there are a reasonable number of offices and architects still using the free version to create 3d models of projects.
To step out of this zone these SketchUp users have basically two options:
Buy SketchUp Pro
Choose another free software
What`s the best option? This is the million dollars 590 dollars question. Are you confortable and dependent enough of SketchUp to make the investment? Would you be willing to migrate to other software?
If you have all your workflow on SketchUp and don't want to loose time and possibly money, make the upgrade to the Pro version will probably be the best option.
Im often trying to show the benefits of migrating the whole workflow to Blender, but sometimes the overall change is not accepted really well. With time people realize that going to Blender is not only a good choice because it is a real free software that comes with benefits like Cycles, BGE (For interactive visualization) and a true animation engine for presentations.
Keep in mind that most people doesn't know and don't care about software licenses, and sometimes you have to explain to them the reason they should be aware of that.
So, do you still believe that SketchUp Make is free?