Free SketchUp plugin Silhouette To Plane
I was working on a project last week, and I had a simple task at that time, and the objective was to create 2d orthogonal views from a 3d model. At first I thought it wouldn`t be that difficult, but soon I realize that it would be a very tedious task. The project had to be done in SketchUp, and with that in mind I did a little search on the Sketchucation forums looking for a plugin that might help me, and just found one called Silhouette To Plane, which can generate 2d shapes based on 3d models.
The plugin is free and works really great. All we have to do to create those shapes is make a plane that will be used as a reference for the lines of the projected.
The image below shows quite well what we can do with the plugin: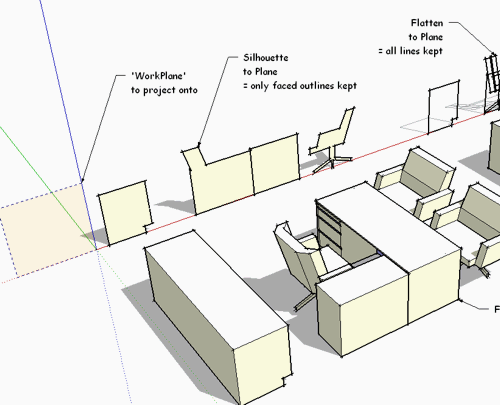 Did I mention that this is a free download for SketchUp?