Free plugin to create grass in SketchUp for architecture
The creation of any king of environment for architectural visualization represents a big challenge to the artist, when the surface is all covered with shiny and green grass. A few years ago it would be a big problem to represent grass on 3d softwares without expansive plugins, or a clever solution during the post production. In Blender we have several ways to create grass for architectural models and scenarios. One of the fastest ways to create grass is with particles. Another way to create realistic grass is with the use of real geometry, duplicated over the surface to create the proper shadow casting and interaction with other objects on the scene.
If you use SketchUp to create 3d models for architectural visualization, there is a free plugin that adds the ability to create geometry based grass in SketchUp models.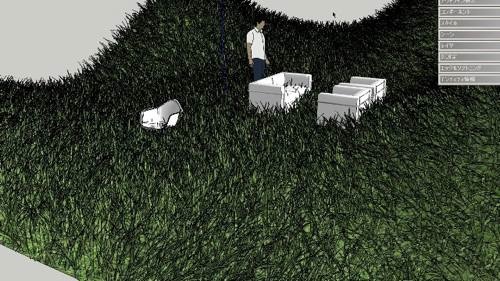 This tool is a great addition to SketchUp for creating rough models, aimed on the evaluation of the early stages of the project. With the representation of grass, we can even generate better scenes. The only downside of this plugin is that with geometry based grass, the scene file could become really hard to manage, due the increase on the polygon count.
In the near future, SketchUp may become another great alternative to create 3d visualizations using the exporter for LuxRender.