Urban environments in Blender
The scales involved in a regular project for architecture hardly goes beyond a skyscraper or something like a shopping mall. But, at some point, you may have to extrapolate that and move to something like a full city. In that case, you probably will need some tool or resource to speed up the modeling of urban environments in Blender.
In a scenario like that when you must provide the visualization of large portions of a city, an Add-on that integrates Open Street Maps with Blender is a must-have.
In the past week, I had to give advice to a small office that needed to work on an animation related to urban planning. It was mostly about traffic rerouting, but part of the project required an aerial view of the city. The quickest way to get that done was with the help of an Add-on created by a developer named vvoovv and shared at the Blenderartists forums.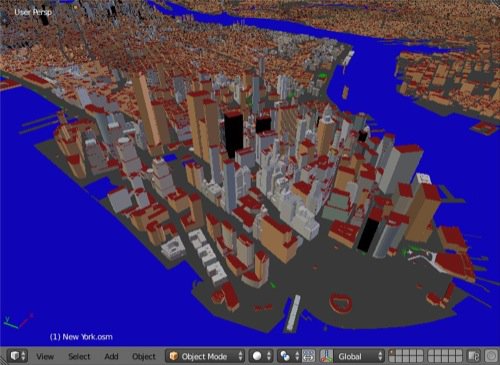 With this particular Add-on, you can import OSM files straight to Blender. That makes the full process of working with the 3d modeling of the city much faster.
For projects related to urban environments in Blender, you will need a tool like this one. When you visit the link, just notice that there is a free and paid version of the Add-on.
After you have the OSM file in Blender, it will become just a matter of aligning the 3d models for the buildings with the proper streets. Much better than model all the roads based on bitmap data from maps.