How to fix bad furniture meshes for architectural visualization?
Working with architectural visualization will make you eventually use, at some point, furniture models from libraries you didn't create. That is no problem at all with that approach. The main problem with that solution is that you will end up having to convert between file formats and getting edit materials and textures.
If you have to work on something like UV Maps or optimize the model to work on real-time visualization, a model with hundreds or thousands of unnecessary faces will give you all kinds of problems.
The best solution for such 3d models is to receive an overhaul using retopology. Not every artist uses or wishes to spend time reworking a 3d model using retopology tools. Is there a faster solution?
If you want to try a faster, and free solution, take a look at a fantastic tool called Instant-Meshes. The sole purpose of that tool is to optimize 3d models reducing polygon count and maintaining quads.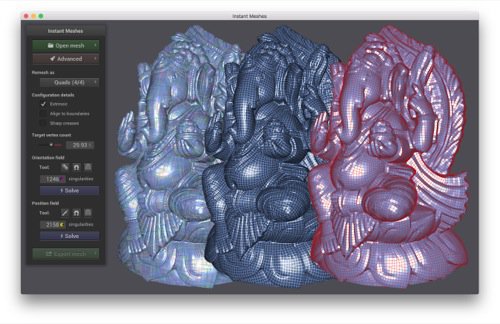 You will see lots of examples from artists using that tool to optimize 3d sculptures, but it can become an invaluable tool to adapt and work with furniture models.
You can take a furniture model, not created for Blender, and after processing it with Instant-Meshes, you will end up with a highly reduced polygon model to import in Blender.
Even if you want to reduce polygon count from models made by yourself, using Instant-Meshes will give you incredible results.
The tool is free and available for Windows, MacOS, and Linux.
It is an incredible resource for architectural visualization artists. We will later add specific content about that tool in the course about architectural modeling with Blender.