Scandinavian studio: Free interior scene with settings for Cycles
A great way of improving your interior rendering skills is observing what other artists do and figure out what could apply to one of your projects. If you had the source file from those projects, it would be even easier to study and reuse some of those settings. Do you want to download a full scene for Cycles? Here is a project from artist Abu Unaisah and shared at the Blender Artists forums.
At the forums, he posted renders from the scene and share some of the settings. He made the entire scene available for download with a link in this YouTube video description.
As you will notice from the file, it was initially a project from Blender 2.79 and Cycles. Does it work in more recent versions? Like Blender 2.9? Yes, it works well with no need to update settings.
Here is a render of the project using Blender 2.9 and E-Cycles.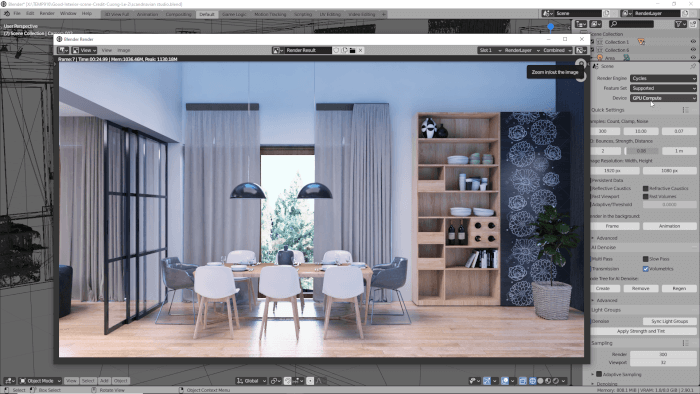 This render uses an RTX 2080 in OptiX mode. How long it took to render? It took 25 seconds to process:
1920 x 1080 (75%)
OptiX Denoising
300 Samples
As you can see from the render results, it works great with modern Blender versions and even the ultra-fast renders from E-Cycles.
One thing you should keep in mind when downloading is the license for this scene. The artist doesn't make clear if he made the models or belong to a restricted library. The same applies to all textures in the file.
If you want to get more full scenes, we have a section here in Blender 3D Architect with some downloadable files with settings for Cycles and Octane Render.
Using Blender for architecture
Do you want to use Blender for architecture or render your projects using Cycles or Eevee? We have three books available that could help you!
They cover the use of Blender for producing architectural content and also all information you need to render projects in real-time:
You can get them in both digital and paperback formats. By ordering those books, you will not only improve your skills with Blender for architecture but also support Blender 3D Architect.