Free wardrobe set for bedroom visualization
For a bedroom project, you will need a particular set of furniture models like a realistic bed, maybe some chairs and a wardrobe. One of the challenges with a bedroom visualization is that you might have to work with a custom-made wardrobe.
In that case, you will have to deal with a separate project and possibly talk to a cabinetmaker for an accurate representation of the furniture model.
But, if you need a wardrobe model to add context to a scene, you may want to use a model from an existing library. Do you want to download a free wardrobe?
An artist called sadaj72 posted at BlendSwap a great pack of free furniture models for your next bedroom visualization project. The file has a wardrobe model and a few other models that will give you a great set of options.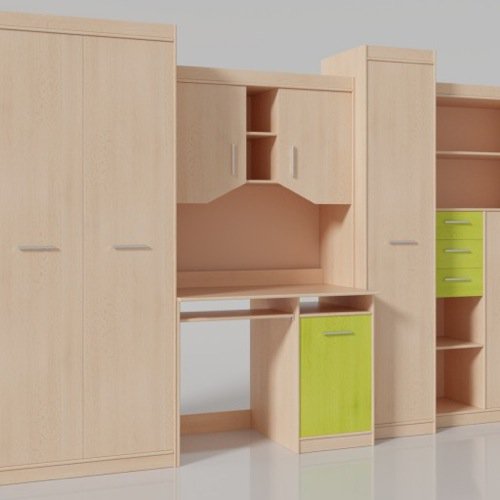 To download models from BlendSwap, you have to register for a free account. The model has about 25MB with all textures included.
When you visit the BlendSwap page, you will notice somehow conflicting license information. The author did mark this wardrobe set as creative commons zero, but BlendSwap flagged the model as Fan Art. They warn you not to use the model in commercial projects.
That is because the wardrobe design is from Polish company BRW (Black Red White), as pointed by the author. I believe the wardrobe is this one from the Nepo collection.
The standard warning for Fan Art is common in BlendSwap due to people uploading models of characters and other copyrighted materials.
For instance, if someone uploads a model from a famous game or movie character and post that as creative commons zero, it doesn't mean you have the rights to use such character in your advertisement or animation without permission from the rights holder.
Does that apply to furniture models in architectural visualization? We can't give you legal advice on the matter, but we believe that unless you claim the design as yours, there is nothing wrong with using such furniture models in your projects.
Imagine the hassle of having to create unique designs for all your furniture models for each project.