Free furniture models for architectural visualization projects
If there is something that really can help a project to be completed in schedule is a great set of furniture models to include in our architectural visualization projects. Last week I was browsing some web sites when I found another great set of free furniture models collection, which can be easily imported to Blender 3D. The collection is provided by Kinnarps, an architecture firm from Sweden that allows for anyone to download a great set of models.
The models available to download are organized into four different categories, which are: AutoCAD 2D, ArchiCAD, AutoCAD 3D and 3d Studio. The models in the 3d Studio category are all saved in the 3ds file format, which can be imported into Blender. The files in the AutoCAD category are saved in the DWG file format, which is a bit harder to import into Blender.
Here is an example of some of their models in Blender 3D: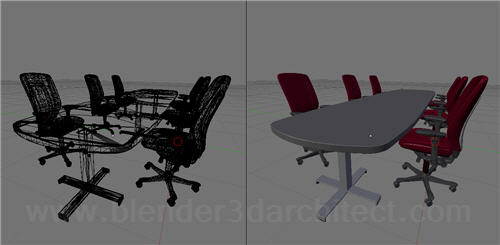 As you can see, most of the models are CAD symbols for office environments.
If you want to use the models only in Blender, I strongly recommend you to download the 3d studio set only. There is no info about a license type at their web site, so it's not clear where we can use this type of CAD Symbols in commercial projects or not. But, they have a contact e-mail there, and if you really need one of their symbols in a commercial project, it won't hurt to ask.
To test the quality of the models, I've decided to place a bunch of their models together in a scene and render it with YafaRay. The models and symbols are not perfect, since the objects are made basically of triangular faces, which compromise a bit the smoothing of all surfaces. But, the overall quality of the models is great: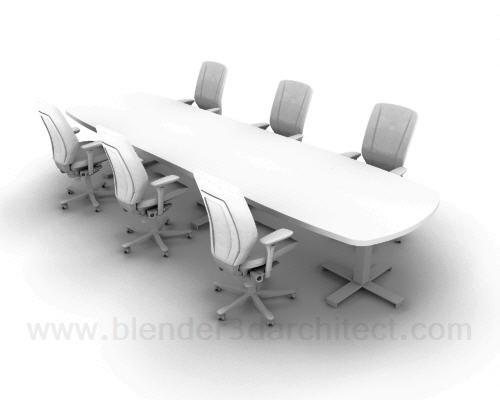 The settings for this scene are those:
Method of Lighting: Direct Light
Direct Light Settings: Use Ambient Occlusion
AA passes: 3
AA samples: 3
AA inc. samples: 3
That's it! No special settings for lights, just a lamp placed near the models.
This is another great resource for architectural visualization artists, which use Blender 3D for their scenes.