Free ebook on how to model high quality furniture models for architectural visualization
Even with lots of free assets available on the internet, it's quite common for architectural visualization artists the need for modeling their own models. For instance, some of my clients create both the architectural plans and also the furniture. Since this furniture is exclusively created for those projects, I can't find reference images or 3d models to use in the project. So, I have to ask for technical drawings or photos of the furniture.
In other projects, using furniture created by local companies and design studios, I have to visit the company showroom and take all pictures myself. With the reference images and technical drawings in hand, the next step is work on the modeling. But, what are the requirements to create a high quality furniture model? If you haven't thought about that yet, there is a great free ebook on how to model high quality furniture models for architecture available to download. It's 62 pages PDF with a detailed tutorial on how to turn a simple model based on geometrical objects into a high quality furniture image.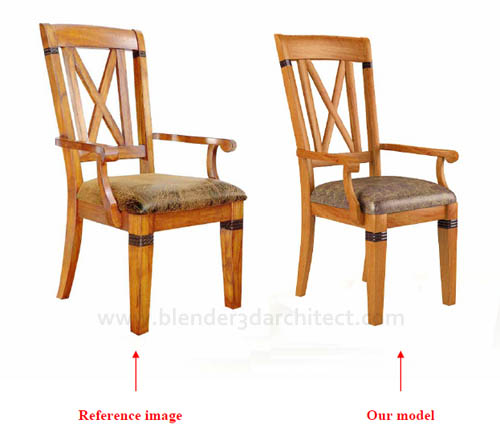 The tutorial used 3ds Max as base for all demonstrations, but after reading the full guide last night and working on some tests with Blender 3D, I can say for sure the it will work on any 3d package you use. The author of the guide, called Alexander Gorbunov works with basic polygon modeling tools such as Fillet, Chamfer, extrude and other tools. Most of them are available in Blender 3d, not with the same name sometimes, but the function is the same. For instance, we can create chamfers in Blender 3d with the Bevel Modifier.
If you read the guide and observe the modeling actions showed on the tutorial, you will be able to make the associations with Blender 3D tools. Some of the tools might not be available by default, but nothing that a good Python script for archiviz can't handle.
Along the document the author shows all the steps required to create a 3d furniture model of a chair. The image that illustrates this article is a comparison between the photo reference image, and the 3d model created in the guide. It's a great result!