Free collection of bathroom furniture
A bathroom project will demand specialized furniture and objects from your library, and if you don't have that objects ready. Objects like a toilet seat and other particular furniture depending on the type of bathroom or restroom you plan to show.
Do you have a good collection of such objects for architectural visualization? At BlendSwap you will find some interesting options to work with bathrooms, from full scenes to special props.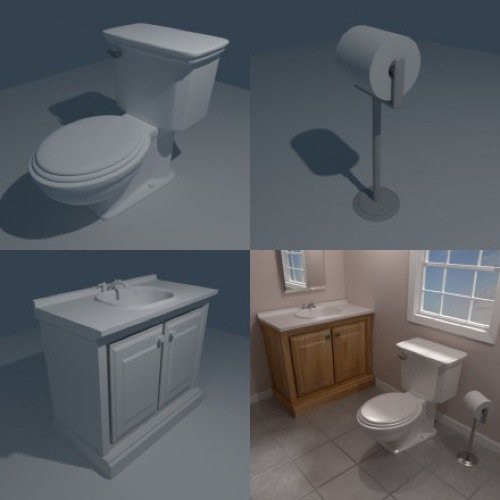 To make your job easier, I made a list from some of the best resources related to bathroom furniture from BlendSwap:
Among that links you will find options for toilets, sinks and small objects like a toothbrush. Most of them are compatible with Cycles and already have a material applied. But, I recommend you to test the materials before including anything to an important project.
The license for most of the files is Creative Commons zero, and just the first collection is CC-BY, which requires you to give credit to the author.
As a way to improve your furniture library, I strongly suggest a rework for all those models.
Taking that approach will consolidate not only your modeling skills but also give you confidence for creating objects from scratch. Having models ready to use for any project is great, but at some point, you will need an object that no one else made before.
Need some help to start modeling? Take a look at our training about architectural modeling and parametrical modeling.