Free collection of 3d sculptures from the Louvre
A good library of 3d models is a must have for any architectural visualization artist, because it will allow for a fast development of a project. You can work on the architecture elements like walls, floors and the overall building. And use the objects from the library to quickly populate the scene with furniture.
Do you want to expand your library of 3d models with some artwork?
An artist named Benjamin Bardou is sharing a small collection of 3d sculptures from nothing more than one of the most famous museums in the world. He manages to get lots of models from the Louvre collection. All files came from photos that later got composed into 3d models.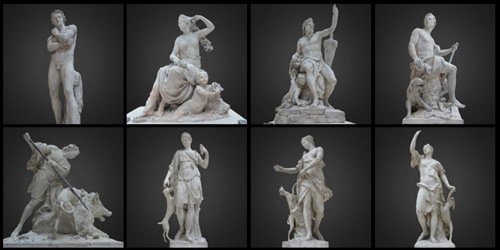 The result is an incredible set of 3d models that are now available to download for free and with a public domain license.
Why would you want 3d sculptures? Like I once said here in a previous article, at some architectural projects you might have to add some artwork as part of the context creation of the project. For instance, you may get a job that is somehow related to art like a gallery or maybe a client that wants sculptures around his living room.
It will be a relieve to have such files ready to use when the time comes, and since they are free to download, I thought that our readers would appreciate the resource. To get the files for free, just set the amount on Gumroad to zero. And to give something to the artist in trade for the resources, you can choose whatever value you wish he deserves.
Get ready for a huge download, because the collection has more than 500MB in size.