Do we still need Blender 2.49b for architecture?
Just a few weeks ago an article here at Blender 3D Architect mentioned a script that will help artists to import data directly from AutoCAD to Blender. This will be a great help for anyone using Blender to create 3d models for architecture. But, several readers pointed at the comments section of that same article that one of the best ways to import DXF files to Blender, still is with the old 2.49b script. Since that day, I started to use Blender 2.49b and his built in DXF importer script and I have to agree with everyone that pointed this. If you want AutoCAD data in Blender, you should definitively give 2.49b a shot.
So far, all projects that I did try to import were processed with all lines and curves, and sometimes I do forget to cleanup the DXF file, and even with lots of "garbage" the script was able to process everything.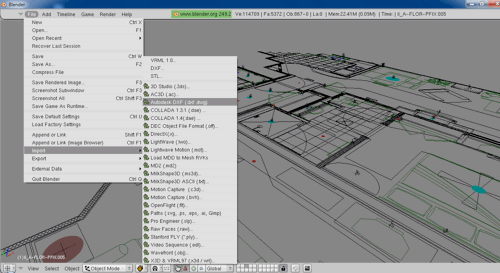 So, based on this experience I have to say that we still need Blender 2.49b! It is mostly useful to import DXF files to Blender. After you got all your data into Blender, just save the file as a .blend and open it in Blender 2.6 and you will have all information there, ready to be used as reference for modeling.
If you want to give it a try, you will find all Blender releases in this address. Be aware that the interface of Blender 2.49b is not pretty, but it is certainly useful!