Blender 2.8 for architecture updates
Last month we published an update to our Blender and architecture book that was the starting point for this site back in 2008. Before this update, you only had the option to use a book about Blender and architecture still in version 2.49.
The content is now up to date to the latest version of Blender and covers all the new features like Eevee, collections, and the new user interface.
If you are among the hundreds of readers that bought the Blender 2.8 for architecture book, we want to say; thank you! The book helps support Blender 3D Architect, and the feedback we are receiving is fantastic.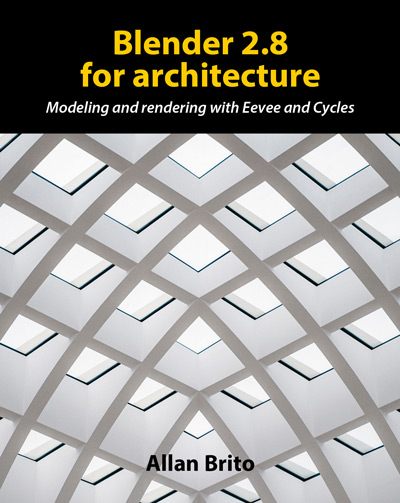 We have a small update to the book content. As pointed by some of our readers, we swapped mouse buttons in section 1.3. Simple left and right swapping.
The content received a fix, and you now will get the revision 2 of the book.
If you got the digital version, it is only a matter of syncing your Kindle App to get the updates. For the paperback you can download the errata:
You need the errata for the paperback if your book shipped before September 8th (2019).
Since we are getting lots of messages from readers asking where they can order the book, we made a list of all the stores and formats available. At the moment we have the book on Amazon using the Kindle app. You can get it in either digital or paperback versions.
For the eBook version, you can order from the following Amazon stores:
The paperback is available to order from those stores:
You don't have to live in one of those countries to get the book. That is valid, especially for the paperback. They will print and ship worldwide.
We are evaluating other platforms to also offer the book at the Google Play Books and Apple iBooks, but at the moment, it is only available from Amazon.
Disclaimer: Some of the links above might be affiliate links, meaning, at no cost to you, we earn a commission if you click through and make a purchase. If you decide to purchase using our links, you will be helping us with the maintenance of Blender 3D Architect. Thank you for your support!