New photon mapping builds and tests for architectural visualization
If you are keeping tracking of the posts of the blog, you may be wondering that an architectural visualization artist that uses Blender 3d, will prefer to use an external render engine only, to render images with global illumination techniques. In the near future we may have an interest addition to the Blender internal render, which is the ability to use Photon Mapping and Final Gathering with the rendering, without the need of YafaRay or LuxRender. The project is in development by farsthary and there are a few test builds available to try the new features.
A couple of weeks ago, farsthary posted a basic tutorial in his blog, with the basic instructions to use Photon Mapping to render. In order to show some of the results from this feature in Blender, I decided to give it a try with an interior scene that works really great with Photon Mapping.
This is the scene: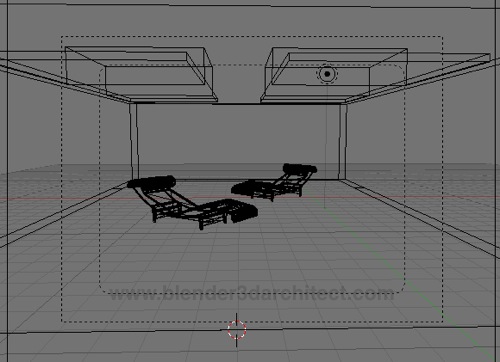 If you want to try it too, here is the build used for this example (windows only). Before you try, let me warn you that this is an experimental build and is not supposed to be used in production environments or manipulate important files. Only use files that have a backup! After a lot of tests and a few crashes I was able to create a simple rendering.
The controls for the Photon Mapping are available on the right side of theScene panel, in a menu called Photonmap GI. There will be a small GI button on the render options, which must be enabled to turn on the GI..

For artists used with the Photon Mapping of YafaRay, the controls will look very familiar. In fact, they have the same effect on both renders. Increase Photons, FG and Search to get a better and clean render. At the bottom we have settings to change the intensity for the photons and radius of the photons.
Here are the settings for this scene:
Photons: 20000
Bounces: 5
Search: 200
Radius Diff: 1
Int. Diff: 70
To add a bit of scale to the scene, I added two L4 chaises from Le Corbusier. This is the final render: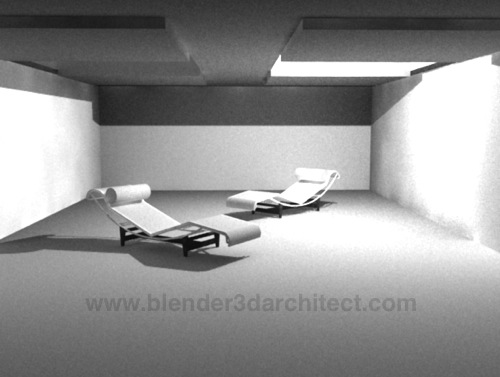 The image still needs a lot of work and tweaking in the settings. But, for a test on how the photon mapping builds works, its good enough. I hope farsthary keep the development of this feature. It wouldn't be bad to see a full GI render working with the Blender internal Render.