Blender 2.8 updates: No more BGE and Blender Internal
In a recent update regarding the development of Blender 2.8, we got two "features" that will no longer be available. The first one is the Blender Render, which was present in the software ever since the early versions. Another feature of Blender that was left behind is the Game Engine, at least in its actual state.
How does it affect architectural visualization artists?
Blender Internal?
The Blender Internal is far from being a tool in the spotlight for architecture. In fact, it is quite hard to find an artist or studio using Blender Internal to create architectural images.
The impact will be minimal, not to say positive. Why? The "replacement" for the Blender Internal is Eevee. Removing the Blender Internal render was in the plans of Blender 2.8 ever since the beginning.
Blender Game Engine?
What about the Blender Game Engine? I still know a few artists and companies that like to use the BGE to create an interactive preview of projects, and they will probably miss the feature.
Having an interactive 3D mode at hand is convenient, but not always useful. Every time I have the opportunity to show the interactive 3d mode of Blender; people become astonished by the possibilities.
But, the excitement fades away when they learn it is impossible to export that to a mobile app directly.
Is it possible to create interactive 3d using the Game Engine? Sure, here is an old example (2012) of a project from Swedish 3d artist Martin Hedin.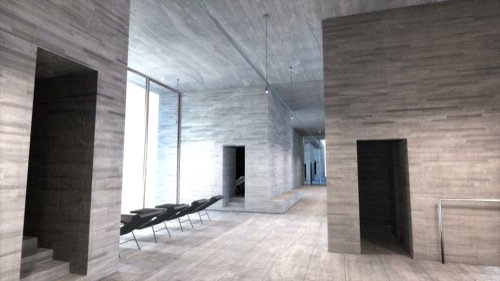 How did he manage lights? He is using baked lights in textures from V-Ray in that scene. As a bonus, you can still download the source file for that project. The link is still alive.
If you still want to create interactive 3d applications the best alternative, at the moment, is to migrate your workflow somewhere else. To keep your workflow within open-source, I strongly recommend Godot as a 3D engine.
The engine offers a fantastic range of features and will even let you export projects as apps for desktop and mobile devices.
A popular choice for architectural visualization is the Unreal Engine. The engine is free to use in architectural presentations and design related projects.
Learning from history
When Blender developments make such leaps forward, eventually something must stay behind. That was the case a few years ago when the overhaul of Blender 2.5 was taking place.
Just eight years ago, around 2010, Blender received a significant update in the transition from version 2.49 to 2.5. Back then you were probably using either YafaRay or LuxRender to work with architectural visualization.
At the time, we had to stick with Blender 2.49 for while until an exporter was made available for those render engines.
But, just a few months later something came out that changed the way we work with Blender forever. Ever since Cycles appeared, it became the first choice for architectural rendering in Blender.
The same thing might happen with Blender 2.8. How knows what will come up in the following months to replace the Blender Game Engine. Maybe an interactive mode for Eevee? Or even an entirely new and modern game engine for Blender.