Cutout images to use in architectural visualization
Adding furniture and objects to an architectural visualization project is not enough to add context, and especially the impression of scale to images. Keep in mind that you are creating images of spaces that people will later use.
You potential customer might not have the perfect impression of the actual size of a scene, with no human reference in place. Artists working with perspective drawing learn from the beginning to add a human scale at some point, and architectural visualization artists should do the same.
One of the best ways to add a human figure to your projects is with a cutout texture of a human figure. A good cutout texture would not only give the proper scale impression but also blend with the context of a project.
For instance, a project in any city in Asia would look much better using only images from Asians. It would look strange to sell a project with images of western people for an urban environment in Asia.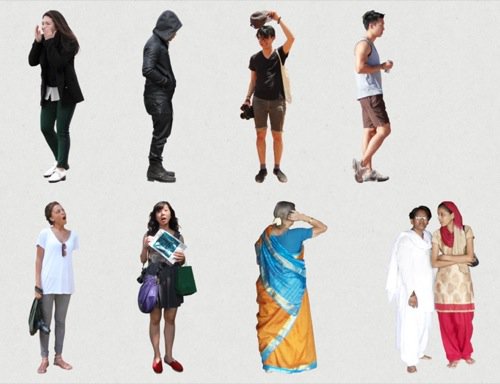 Do you want to download free cutout images with a broad database of images from people all around the world? Take a look at the Cutout Life. The site has an incredible and free collection of images to use in your projects.
To get the files, you just have to visit the site and filter images by place.