6 Free skies for exterior architectural renders (JPG)
Even with the existence of multiple options regarding skies and backgrounds in Blender like the procedural Sky or Blackbody node, you might find it easier to insert a photo-based reference to get the desired mood. For instance, you may want to render a project with a warm afternoon look. Instead of trying to match the looks with procedural textures, adding a photo in the background is a lot faster.
To get such speed, you need the photo in your asset library. Do you have a wide variety of those photos? If you want to download some of those reference images with skies, an artist called Nichlas Boysen shared on his Gumroad profile a total of six photos with resolutions going up to 15000px.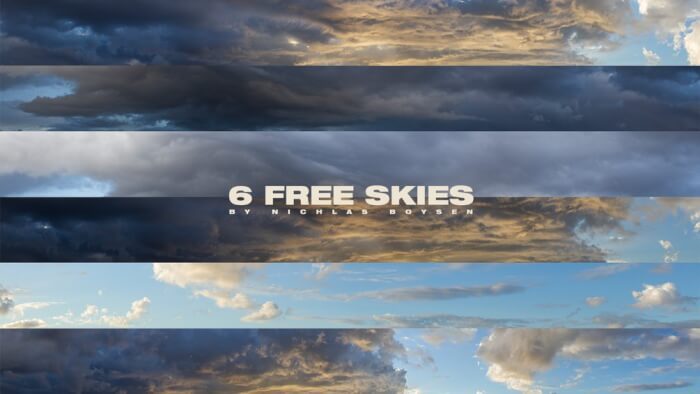 You can download the collection for free, but it requires the use of a coupon code. To get it as a free download, you must set a price first, above 5 dollars, and on the checkout page, use the code "freebie" to get it for free.
If you plan to use the images in commercial projects, it would be nice to support the artist.
Using Blender for architecture
Do you want to use Blender for architecture or render your projects using Cycles or Eevee? We have three books available that could help you!
They cover the use of Blender for producing architectural content and also all information you need to render projects in real-time:
You can get them in both digital and paperback formats. By ordering those books, you will not only improve your skills with Blender for architecture but also support Blender 3D Architect.