How to download content from Blender 3D Architect Pro?
Earlier this month, we started a new project here in Blender 3D Architect to migrate all our content based on subscriptions to Gumroad. There we gave it the name of Blender 3D Architect Pro. There we have a reliable system to keep those files and benefits like a mobile app that you can use to download or stream our videos. Our readers' response was amazing, and most of the current subscribers are already using Gumroad to download the content.
Note: If you are a subscriber and still didn't migrate, check your inbox to see if you got the instructions on how to move to Gumroad.
We post new content to subscribers every Tuesday and Thursday. All subscribers receive a message with details about the content and links to download.
What about old content? How to download previous content from Blender 3D Architect Pro?
After becoming a subscriber, you will see the content in your Gumroad Library.

If you click on the option "View content".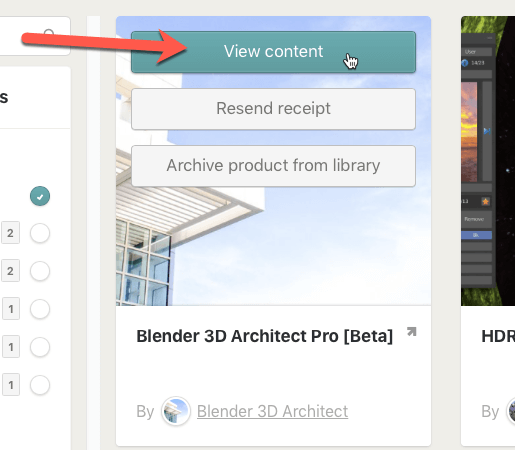 You get a list with all available files offered in Blender 3D Architect Pro. You can either download the assets or stream the tutorials.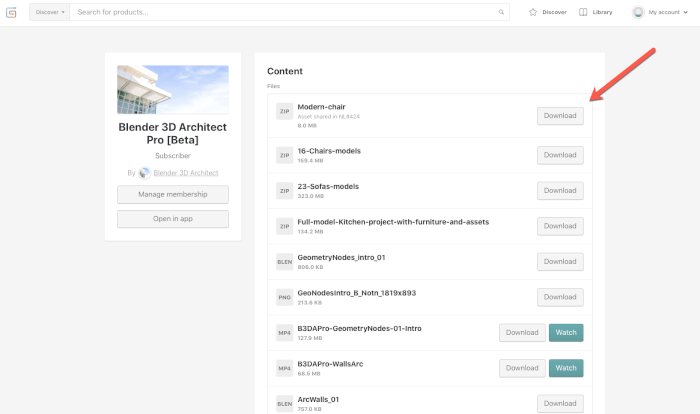 One of the benefits of Gumroad is that you keep the content in your library even if you cancel your subscription.
Don't forget that Blender 3D Architect Pro is currently on sale as a way to celebrate the revamped content. You can become a subscriber with a 60% discount using code PRO60X at checkout. As long as you keep the subscription, you will get that discount indefinitely.
Why should you subscribe? Here are a couple of reasons:
Help us maintaining Blender 3D Architect
Receive exclusive content with a focus on architectural visualization
Access to assets
Overview of upcoming Blender features that can help you in architectural visualization
Here is a quick overview of the content posted in the past weeks.