SketchUp importer for Blender 2.82a released
An architectural visualization project usually starts from a reference file received from the client, which could be either a set of technical drawings or a 3D model. Sometimes you might receive an SKP file from SketchUp with a rough model and some basic layout.
Until a couple of weeks ago, we only had an option to import SKP files to Blender 2.79, since the Add-on that helps us to get those filetypes to Blender didn't receive any update to the latest 2.8x series.
Today, we have some great news for artists looking to get a native solution for Blender 2.8. A developer called Arindam Mondal ported the widely used Add-on from Martijn Berger to Blender 2.82a.
You can download the file from this link.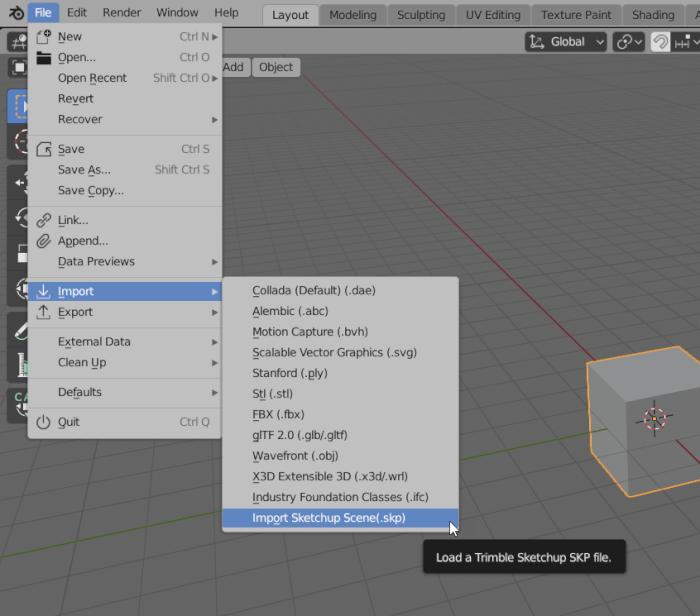 It is a great help for artists that were still managing SKP files and will simplify their workflow. You don't need Blender 2.79 anymore to process SKP files to append them to a 2.8x project later.
At the moment, you only find a Windows version of the Add-on. The developer still didn't release a Mac or Linux version.
The good news doesn't stop there. It also works with version 2.9x.
Using Blender for architecture
Do you want to use Blender for architecture or render your projects using Cycles or Eevee? We have three books available that could help you!
They cover the use of Blender for producing architectural content and also all information you need to render projects in real-time:
You can get them in both digital and paperback formats. By ordering those books, you will not only improve your skills with Blender for architecture but also support Blender 3D Architect.