BlenderBIM updates: Export BIM files from Blender (IFC)
The use of Blender as a 3D modeling platform is a popular choice in many fields, like game development. When you start working with engines such as the Unreal Engine, you will quickly notice it lacks features to create more elaborate 3D models. Another area where Blender might soon start to become popular is the creation of BIM files.
With the BlenderBIM project, you have an add-on that makes Blender capable of exporting IFC files. We already talked about the add-on multiple times here in Blender 3D Architect, and a couple of days ago, it received an update with lots of new features.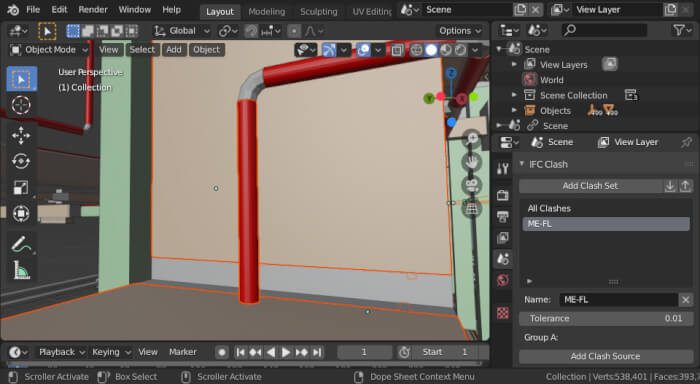 The BlenderBIM is now at version v0.0.200525. Here is a list of all the new features:
New feature to convert from local to global (georeferenced) coordinates
Custom Qto definitions can now be exported
IfcClash can now patch global coordinates to aid in the accuracy of clashes
IfcClash can now be used standalone or as a library in any project
IfcClash is now bundled with the BlenderBIM Add-on for Windows and Linux
Exporting two IfcProjects will now merge them into a single IFC project
Experimental IFCXML can now be imported
The relative placements of the spatial hierarchy are now imported and exported
IfcClash now supports clashing many-to-many / multiple IFC files at once
IfcClash now lets users configure clash tolerance
IfcClash now reports the worst-case distance clash in the case of multiple clashes with the same two objects
IfcOpenShell now has a utility module to let you conveniently do geolocation, element filtering, and getting element properties
IfcClash now supports element filtering, with filter rules, and/or statements, inclusion and exclusion rules
IfcClash now supports internal collision checks – to check for collisions within a single group of objects
IfcClash now supports clash sets to be defined, so you don't need to set up the rules again each time
The BlenderBIM Add-on has a new UI to create and run clash sets with IfcClash
The BlenderBIM Add-on now has a feature to export and import clash sets
Simple integration with cove.tool for basic energy and daylight analysis
You can now export experimentally to IFCJSON format
BIMTester updated to latest MicroMVD syntax specification
BlenderBIM Add-on now allows you to specific relationship checks during IFC Diff execution
When importing the same file or updated files twice, existing rooted elements (spatial elements, objects, types, etc.) are reused instead of duplicating
You can now export psets related to spatial elements
Users can now switch easily between IFC4 and IFC2X3 when exporting
New feature to select/highlight all clash results in your current 3D viewport
As you can see from the extensive list of updates, the BlenderBIM project is growing fast and making Blender even more capable of helping architectural design.
How to download the IFC exporter? Visit BlenderBIM and download the add-on, which is free and open-source. The BlenderBIM is an initiative from architect and developer Dion Moult.
Source: Blender Artists
Using Blender for architecture
Do you want to use Blender for architecture or render your projects using Cycles or Eevee? We have three books available that could help you!
They cover the use of Blender for producing architectural content and also all information you need to render projects in real-time:
You can get them in both digital and paperback formats. By ordering those books, you will not only improve your skills with Blender for architecture but also support Blender 3D Architect.