Retopology tools for architectural modeling
A lot of tools available in 3d packages like Blender 3D are aimed to use in character modeling or organic modeling, but don't seem to have a direct application in architectural modeling. For instance, when we take a look into retopology, most of the examples and applications described deals with the recreation of organic meshes. It may be a high poly character that must have the poly count reduced, or a model creating with sculpting techniques. Anyway, it's a tool for organic modeling, right?
A few days ago I was watching a really great tutorial posted by Wes Burke on Vimeo, about Retopology tools for Blender. At the tutorial we can take a look on how to open a hole in a curved mesh. The technique for opening a circular hole in a flat mesh is easy to follow, and involves only the use of mesh circle aligned with some faces of the mesh object, and with the connect tool of Blender (F key), we can connect all vertices creating the faces.
After I saw the tutorial, I started to wonder if the technique could help in architectural modeling, and I thought immediately in curved walls. This is not a common type of window for curved walls, but if we face a modeling challenge like this, the retopology tools will be a great help.
Here is a quick test I did with retopology, with a curved wall derived from a Spin tool.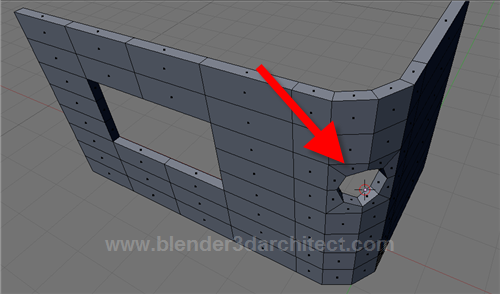 The final result still need a bit of work to smooth enough. If I apply a texture it may look better, but probably it will require a few extra loops to get smoother. The same technique could be a great help with dome modeling. Or furniture modeling, specially small and organic shapes.
If you never tried the retopology tools of Blender 3D for architectural modeling, I strongly suggest you to use it at least once. You never know when a visualization project will demand this type of modeling skill.
I still remember back in college I worked on a building that had an elliptical shape. If only I had retopology tools back there! After a few days trying to model it in AutoCAD, I figured out how difficult it is to manage curved walls.