Free stylized retro appliance furniture for Blender
When you have to add some appliances to a project, eventually you will find customers that will want a retro style. For some people, using retro furniture is modern.
If you get that kind of request for a project, you will need retro style furniture.
An artist called Alberto Hernandez shared on his Behance profile a great collection of retro appliance furniture models that you can use with Blender.
From the title, you can realize that they are not realistic models. At least not visually. They have a cartoonish look. However, you can use them as a reference to create your realistic version of the models.
Once you visit the page, you will notice a large preview image pointing that all models are in 3ds Max 2014 format. Don't panic!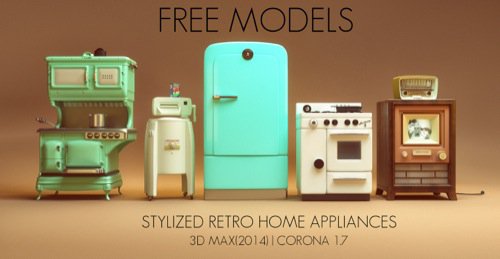 Despite being at the image, you will also notice that Alberto was kind enough to make another version of the retro appliance furniture models. All models are also in OBJ and FBX formats. Since you can easily import OBJ models in Blender, it will be incredibly easy to add them to your project.
In fact, here they are in Blender.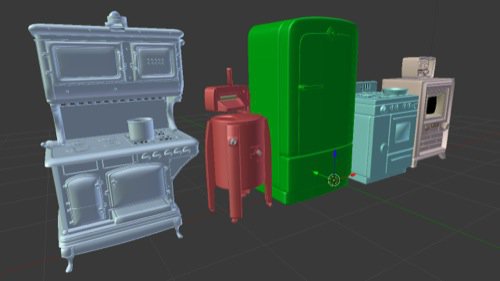 You will have to add materials and textures, to render them in your next architectural visualization project. If you need anything that looks like retro appliance furniture. I strongly recommend the download. At least, for reference.
In the future, that link will eventually stop working since it is from the artists Dropbox account. That means, download it now to guarantee the files. It is about 26 MB in size.
What about the license of the retro appliance furniture models?
According to the artist, you can use the models for both personal and commercial projects. He doesn't make it clear, but you don't have to give him credits explicitly. Just let him know how you used the retro appliance furniture models.
There are a lot greater free 3d models around in MAX format that is somehow inaccessible to Blender artists. If you have a model like this that is only in MAX format, you can try our guide on how to import MAX files without 3ds Max.
It won't work for all files but is a great starting point.