Free collection of 3d furniture with over 40k models
Furniture models may help you in two different scenarios. The first one is where we take the 3d model and insert it directly into a project. As a second, you may use a model that doesn't look that good or have topology problems and rebuilt it using the object as a reference.
If you find a 3d model that you need and it has topology problems. You shouldn't abandon that model! Use it as a reference to create a new one.
A technique often used to rebuild 3d models based on a digital sculpture called retopology might help us to create a new version of that furniture.
With retopology, you will get a high-dense mesh to create a low poly version on top. Using such technique will help you to use any 3d model. Even the ones that apparently will give you problems or visual artifacts during render.
I found a furniture library that has lots of 3d objects, but some of them may require a bit of work to suit modern day architectural visualization projects.
Do you want to download a huge collection of furniture models for architectural that are royalty free and doesn't require registration? A website called Archive 3D offers more than 40.000 models that could help you not only to find a particular object but to create your own using retopology.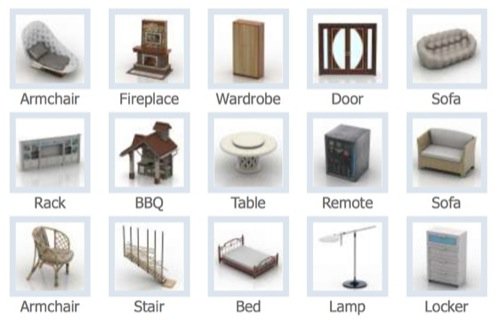 Despite being an excellent source of raw furniture objects, all models from archive 3D came in 3DS format, which is old and often produces meshes with a lot of topology artifacts. And that is the main issue with their models.
After you successfully import any of their models, you will notice that objects will require some work to fit a render requiring realistic furniture.
Does it worth the download? I still think it is a great resource.
If you can't use furniture models from Archive 3D directly, they will help you to model your personalized 3d furniture. Take the object and use it as a reference to create a new one.
The range of 3d objects available is incredible. For instance, you can go into furniture categories that are hard to find anywhere else. Like medical equipment and an ultrasonic machine for hospitals.
Don't like one of the models? Use them as a reference to create derivates using techniques like retopology!
And if you are getting started with modeling for architecture, I do recommend you to take a close look at our training related to architectural modeling: