22 Bed models for Blender with materials
When you get a job to create the visualization of a project in Blender, a pivotal factor in delivering those images is time. It would be best if you managed the time needed to work on all stages of this project, starting with the modeling. Therefore, you must take all opportunities to save time during production.
Building an extensive asset library is an effortless, easy way to save time on those projects. With a wide variety of options, you can quickly populate a project and start working on the rendering.
I found a collection of bed models that is a perfect addition to a furniture library. The guys from 3D Shaker posted a pack with 22 Bed models ready to use in Blender.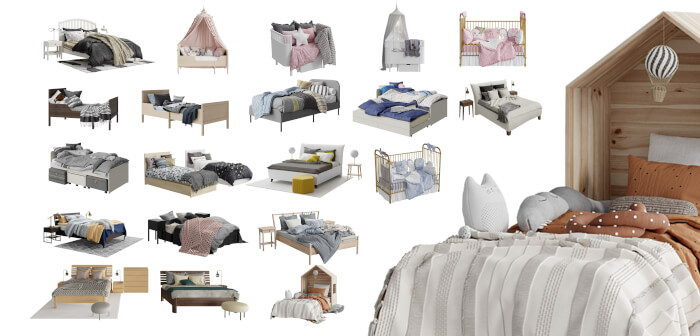 The pack includes different types of bed models and features an outstanding quality. Here are some of the types available:
Double beds
Single beds
Child beds
Cradles
It is an excellent furniture selection for artists looking to work with residential visualization. You can easily add those models to a project and start rendering, and they all feature PBR materials and all settings required to render with Cycles.