BlenderBIM updates and new features (v0.0.200912)
The use of Blender for architecture always impresses people that think about it as a way to create 3D renders of your projects only. You can do a lot more with Blender if you know the right tools and tricks offered by this incredible platform. Of course, having a powerful way of making 3D visualization for marketing purposes is excellent, but we can also create technical drawings and go beyond that with BIM tools.
One of the first initiatives of introducing BIM to Blender was the IFC Add-on that enabled Blender to import BIM data. Today we have the BlenderBIM Add-on that gives the software tools to create BIM data and not only import it from external sources.
If you are using the BlenderBIM Add-on, it received another major update a couple of days ago, and it is now in version v0.0.200912.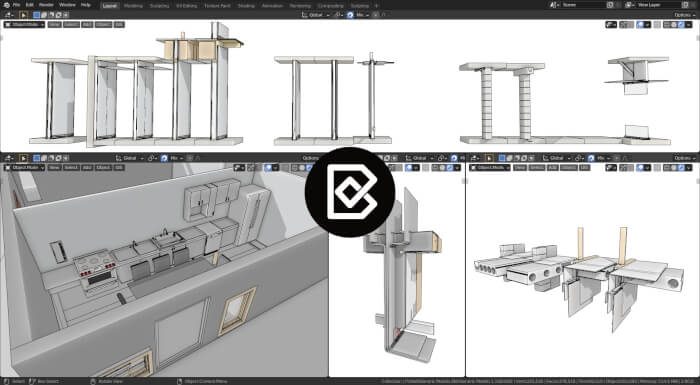 Here are all the new features:
Creating drawings now works with OpenGL render mode, allowing for better wireframe / hidden line rendering
New default site boundary CSS style
Multiprocessing is now enabled by default. It's probably stable enough, so let's test it even more!
You can now export to DXF automatically when creating sheets
Nested IfcSpaces can now be imported
Reloading IFCs now detects openings and projection changes, meaning it's more robust
You can now set the viewport shadow from the sun position angle, useful for solar analysis
You can now set the georeferenced north from the Blender sun position
2D annotation now extracts from IFC files directly instead of Blender, and checks for bounding box intersection to determine which annotation to show
Switching cameras now also activates the correct drawing styles on the fly
You can now add an arbitrary annotation to a drawing, not just from a set of presets
You can now store arbitrary IFC data (attributes, properties, quantities, and type relations) in the SVG data, per drawing style
You can now copy properties to selected object even if the property set doesn't exist yet
Three new default hatch styles for square hatches
New hatch pattern for demolition
Show error message if attempting to add a drawing to a sheet that hasn't been generated yet
You can now export quantities related to a spatial element, not just non-spatial elements
New debug panel lets you create shapes per STEP ID, useful for analysis of IFC geometric data
Dumb walls are now based on vertices by default, not edges, for faster, dumber, walls :slight_smile:
You no longer need to select the entire project when exporting. If you have nothing selected, everything is exported to IFC. If you select things, only selected items will export.
A new feature lets you select high polygon meshes to help pinpoint why IFC files are so huge (looking at you, Revit!)
You can now switch between drawings with one click from the properties panel in the 3D view
The drawing list can now be manually refreshed in case you are manually creating drawings
Stroke linecaps are now rounded. Nicer looking drawings, you know.
The preset for cut objects for overall plans now include IfcSpace, as it's quite common
Text annotations in drawings can now be rotated
If the active object is a camera, a new temporary section plane will now match the camera
Text annotation now supports storing classes and IFC metadata in the SVG, like all other objects
Drawing dimensions now have support for imperial unit formatting
BIMTester can now audit for high polygon IFC geometry
Implement new Model Federation MicroMVD in BIMTester
Drawing styles can now store settings for render type, outlines, shadows, and lighting
You can now add openings by selecting the filling element, not just the opening element, for convenience.
The plan representation context is now exported by default. Fewer steps for 2D documentation!
Add support for exporting site and building addresses for IfcSite and IfcBuilding
Remove some deprecated representation item operators in the mesh properties panel
Creating drawings is now much easier with less manual workarounds
Users can now specify their own app to open SVGs and PDFs
Bump to the latest IfcOpenShell, for more robust geometry processing
Besides all those new features, the Add-on also got a few bug fixes. The BlenderBIM Add-on is free and open-source.