BlenderBIM updates and new features (v0.0.200829)
As an artist working with architectural projects in Blender, you are probably aware of the incredible and flexible options to create 3D models with the software. You have a wide range of tools to make 3D objects representing almost anything related to architecture. There is one aspect of architectural modeling where Blender cant helps us by default, which is BIM. For that, you would need third-party tools to make those models.
If you want to keep Blender as your main tool to create 3D models for architecture and also include BIM in the workflow, you should take a look at the BlenderBIM project from architect and developer Dion Moult. He is working for a long time, about one year, with an Add-on that can export BIM models from Blender.
The Add-on uses an open BIM format called IFC and enables Blender to create those models, which you can later use in softwares like Revit, BricsCAD, and others.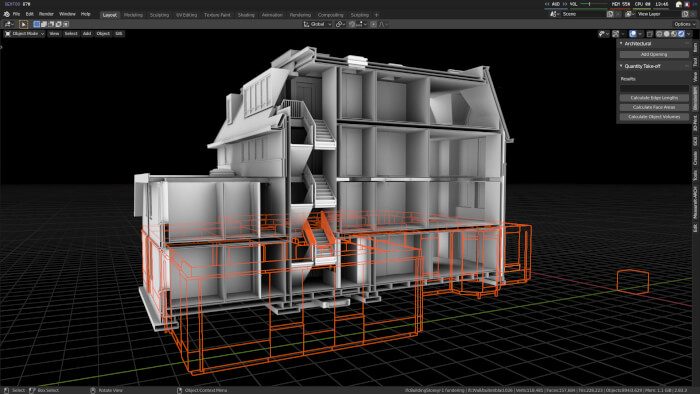 A couple of days ago, we got another update from the BlenderBim with the following changes and updates:
All CPU cores are now used for shapes in drawings generated from IFC. This leads to much faster-drawing creation!
Users can now specify what objects should be cut in documentation with either a custom rule or with presets.
Adding a new representation subcontext when you haven't yet defined a body auto-adds a body subcontext and clones the mesh
New button for the camera to quickly open the relevant drawing
Export now has an automatic bounding box representation being generated
New dumb wall geometry creator tool
New dumb stair geometry creator tool
New dumb door geometry creator tool
New dumb slab geometry creator tool
New dumb window geometry creator tool
2D representations now support IfcIndexedPolyCurve so instead of just 2D curves you can have full 2D wireframes
New utility to quickly set object colors
New interface to manage different drawing styles
Drawing styles can now remember basic rendering settings and let you switch between them
New highly experimental DXF2IFC conversion script
Managing drawings now is done in a list instead of a dropdown for user convenience
You can now pick the vector CSS style and save it as a drawing style
Support for importing IfcGrid itself, not just the individual axes.
Importing IfcGridAxis now retain their UVW assignment and can store attributes
Support exporting IfcGrid and IfcGridAxis with all of its relationships
New grid creator tool for convenience
Doors now can have 2D annotation representation subcontext symbols auto-generated
Windows now can have 2D annotation representation subcontext symbols auto-generated
New button to edit the CSS style within Blender itself for convenience
Drawing styles can now store element filters to include/exclude elements in drawings
More robust footprint area calculation, specifically targeting better results for IfcSpace
Selecting multiple objects now lets you guess/fill out quantity sets in bulk
Enforce directories when selecting a MicroMVD for BIMTester for convenience
You can now purge project-specific IfcClassification hierarchies
Newly imported IfcClassification hierarchy for a project will show up immediately
IFC COBie will now launch the log as well as the spreadsheet when converting from IFC to a spreadsheet
New more user-friendly UI for sheet creation
Exports now auto-detect curve/wireframe representations, so you no longer need to classify it manually
Native element support for importing IfcCircleProfileDef
Preset title block template now has a white background
You can now convert generated sheets to PDFs on the fly
New UI to manage schedules and link them to ODS spreadsheets (yes, this spreadsheet data can be generated from IFC too)
You can now convert an ODS spreadsheet into a vector schedule to be included on a sheet
Schedules can now be added to sheets
At export-time, the exported IFC is automatically considered for drawing generation, for convenience
You can now override the default COBie definition of a maintainable asset for both objects and object types
You can now specify custom IFC attribute mappings for COBie spreadsheet views
Support exporting tessellated polygonal face sets for much more efficient file sizes! (Suzanne shrinks from 84kb to 44kb)
Improve error reporting for BIMTester when it audits a list of IFC attributes
New dumb opening geometry creator tool
Native element support for exporting IfcCircleProfileDef
Grids in drawings now read from IfcGridAxis AxisTag attribute when available
Types are now automatically categorized in the project tree when assigned for the first time
Support IFC2X3 classification EditionDate CalenderDates
New utility to extract all IFC documentation for all COBie-defined maintainable assets
New utility to extract all relevant entity and enum descriptions from the IFC documentation
Creating drawing sheets now understand templates in any CSS unit
All SVG scales now are standardized to a human unit with improved spacing and placement.
Views are now placed within the title block border by default
Support for all known ODF units when creating schedules from different spreadsheet applications
Add support for imperial drawing scales
Add support for custom-defined drawing scales
Add support for custom title blocks
New preset title blocks for A1, A2, and A3 paper sizes
Drawing boundaries can now have different aspect ratios
Annotation tools are now in the viewport instead of properties tab for easier access
Drawings can now be associated with an IFC geometric subcontext target view to guide the drawing generation process
You can now generate annotation references for IfcBuildingStoreys
Bumped IfcOpenShell build, resulting in more reliable geometry processing during imports
As you can see from the extensive list, you have a lot to play around with the BlenderBIM v0.0.200829!The Add-on is free and open-source.
If you want to explore other open-source tools for architecture, I strongly recommend a look at FreeCAD. It also supports BIM modeling for architecture. We even have a book covering technical drawings with FreeCAD.
Using Blender for architecture
Do you want to use Blender for architecture or render your projects using Cycles or Eevee? We have three books available that could help you!
They cover the use of Blender for producing architectural content and also all information you need to render projects in real-time:
You can get them in both digital and paperback formats. By ordering those books, you will not only improve your skills with Blender for architecture but also support Blender 3D Architect.