Git-like version control for IFC files
Whenever I had the opportunity to explain the benefits of using open-source tools for architecture and design, I often emphasized the people behind each tool. For us, a vital aspect of the development of BlenderBIM and FreeCAD is that both of them have architects as developers, and it brings a lot of advantages. Most of the new tools and features appear as part of their experiences with project development, and they share that with everyone else.
Another of those features can help everyone appear on the OSArch forums, and it is a considerable benefit for teams working with project development.
Have you ever used Git tools? If you don't have any experience with software development, using something like a Git environment might seem strange. With Git tools, developers can keep track of changes and updates in code. It also works for plain text files. You can save different versions of a text and highlight changes with complete control over the file history.
Wouldn't it be great to have such a feature to control the history of an IFC file? It would allow us to see changes applied to a model, like adding new windows and doors or even changing dimensions.
In a post shared this week, one of the developers shared a demo of a Git tool inside BlenderBIM for IFC files.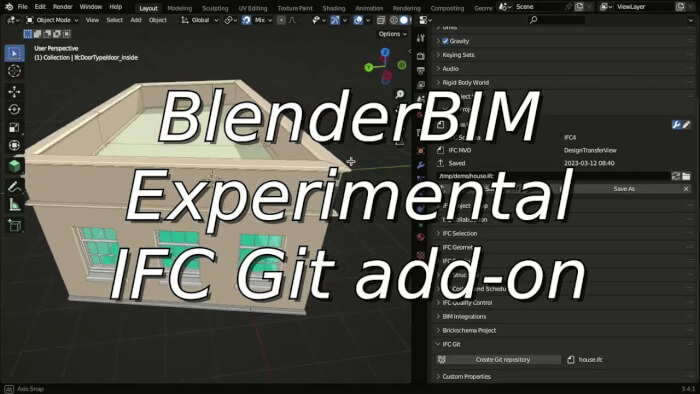 The project is still in the early stages and is looking for funding sources to use it forward. It is an essential and fantastic feature to have in Blender. Here are a few of the benefits of having version control for IFC files:
Keep track of the history and evolution of a design
Make changes available to team members in large projects
Add comments and descriptions explaining each change
Those are a few benefits of using such a tool for architectural design.