Free download of a Roof-top Garden House project
When you are in the process of creating a design for a particular project, you will end up having to solve a lot of problems. That reminds me of a quick guide we sent to premium subscribers of Blender 3D Architect, where we discuss the interior design process.
At the guide, we talk about the problem-solving stage, and one of the problems you will have to solve in urban spaces is space. Nowadays it is becoming expansive apartments and big houses in crowded urban environments. That is why you have to come up with creative ways to use all available space in some projects.
Do you want to see an example of a creative way of using a roof-top in a narrow building? You will find that in this Roof-top garden project that you can download straight from BlendSwap. The author of the file, called namds666, describe it as a model to represent an architectural project.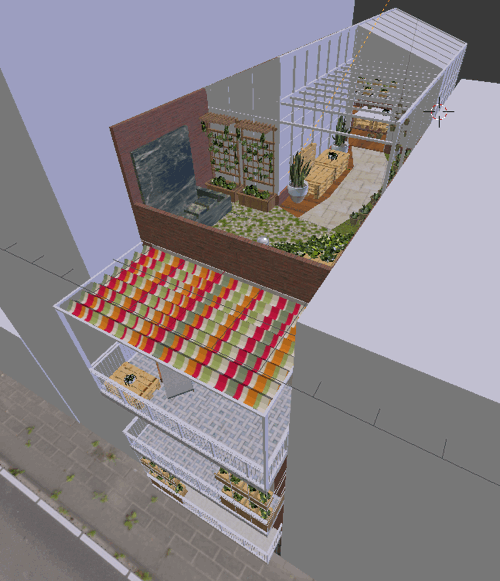 That is an excellent example of what you do with Blender to create architectural studies about the use of spaces in urban environments. The model doesn't have any optimization for a realistic render in Cycles, but it works as a way to evaluate a design solution well.
As a bonus, you will find that this Roof-top garden project is Creative Commons zero, and you can use it for whatever purposes.
What is BlendSwap and how to download files from there? A website is a place for artists using Blender to share some of their work, and anyone can upload a file you made in Blender.
Since there are hundreds of downloads every day, you have to dig for assets that might become useful for your projects, and with a permissive license. A significant amount of files have Creative Commons license by attribution and others, like the Roof-top garden, have a Creative Commons Zero. Meaning, that it is in public domain.
You can create a free account at BlendSwap to download the file, but it has a limit of data that you can download per week. To get that Roof-top garden project a free account is enough to download the file.